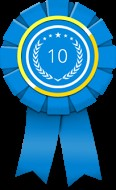 NEW YORK (PRWEB) November 26, 2018
10 Best Design recently selected the winners of its Best Website Design awards for November 2018. The top three firms in this category were Ruckus Marketing, Blue Fountain Media and SPINX Digital.
Since finding the best website design firm requires a lot of searching and cold calling, 10 Best Design decided to make a curated list of the best firms out there. Ruckus Marketing and others that made it into the top 10 had impressive portfolios and online reputations that were hard to ignore.
The winning companies in this prestigious list will benefit from having a boost in sales and brand recognition like never before. In addition, the winners will enhance their search engine presence after holding their monthly ranking. Companies of all sizes are evaluated for the list, making the competition performance-driven rather than contingent upon having deep pockets.
Considered the best web design agency, Ruckus Marketing is a well-known brand in digital marketing work. Not only are they famous for world-class website creation, but they also handle specialized marketing campaigns. While their team is not the largest in the industry, they have plenty of key designers that make a difference. Their portfolio is padded with a wide variety of industries, including clothing lines and financial companies.
Blue Fountain Media is another clear contender as one of the best website design firms. They have quite a large staff in comparison to other specialized design firms, and they serve the international demand for web 2.0 branding. They are especially adept at B2B marketing and take the robotic nature out of the monotonous market. Their design and marketing skills have taken so many brands to the center of excellence that this company is hard to ignore. In addition to web design, they are crafty with application creation and search marketing campaigns.
SPINX Digital is a leading web design firm and all-in-one agency that features a small team and powerful portfolio. Their work with Traderplan is the perfect presentation of how their web design skills can convert into real sales. This digital currency trading platform amazed their customers with such a friendly-user experience that sales skyrocketed as a result. More case studies about the company can be viewed in their public portfolio.
Of course, every potential client should review each agency on the list to find what suits their needs. As the rankings for the best agency may change dramatically every month, this does not mean that each company does not have their specialties. For more information about the award winners for November, visit http://www.10bestdesign.com.