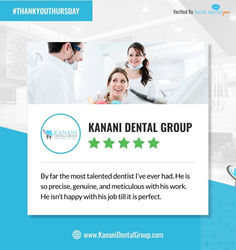 LOS ANGELES (PRWEB) December 09, 2018
Dr. Kanani is well known as one of the most popular family dentists in Woodland Hills and one of the top reasons for this is because he has engineered a revolutionary way to permanently solve the problem of tooth loss.
All patients have to do is to undergo dental implants and they never have to worry about suffering from missing teeth again. According to an article published on 1 June 2013 on Nature World News, "3.9 billion people suffer from dental problems" (http://www.natureworldnews.com/articles/2220/20130601/3-9-billion-people-suffer-dental-problems-report.htm). The article goes on to say that "tooth loss is often the final result when preventive or conservative treatments for tooth decay or gum disease fail or are unavailable."
According to Dr. Kanani the statistics clearly speak for themselves. Bad oral health is rampant throughout the world and the United States is no exception. According to this general doctor in Woodland Hills, there are certain oral surgery methods that can be taken to combat tooth loss, one of which is getting dental implants. Here is some information on undergoing dental implants with Dr. Kanani.
What Are Dental Implants?
Commonly known as the long term solution to tooth loss, a dental implant is an artificial tooth root that is placed into the patient's jaw to hold a replacement tooth or bridge. According to Dr. Kanani, the ideal candidate for a dental implant should be in good general and oral health. However, some patients who have been living with missing teeth for extended periods of time suffer from moderate to severe bone loss. This means that they have to undergo block bone graft surgery before getting dental implants. A small block of bone will be removed from another part of the body, typically from the ribs, and placed into the jaw to form a solid base into where the titanium dental implant is placed.
Dental Implants With Dr. Kanani
Dr. Kanani has designed a brilliant technique of inserting dental implants without requiring the patient to undergo block bone graft surgery. This reduces the total dental implants cost by up to $4,000. The significantly reduced rate gives many patients the opportunity to afford this expensive and lengthy procedure. Dr. Kanani's new method is called the Flap-Less/Drill-Less Surgery method. This family dentist in Woodland Hills will use a series of dental instruments to expand the jawbone. The dental implant will be placed into the gap that is formed. As opposed to conventional methods of getting dental implants, Dr. Kanani's way does not involve cutting and drilling, thus significantly reducing his patients' healing time. Not only that, patients who choose to undergo oral surgery with Dr. Kanani will be treated to some of the finest dental equipment and staff in the country.
Dr. Kanani is offering a complimentary consultation for first time patients. Additionally in line with Mother's Day, he is also offering dental implants starting from the very affordable rate of $699.00. Make an appointment with this Woodland Hills dentist by calling (818) 579-9899 or heading to http://www.woodlandhillsdentalspa.com.