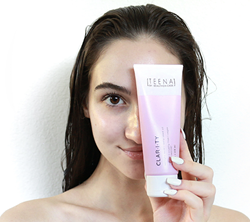 I wanted to create a cleanser that meets the skincare expectations of my generation.
PALM BEACH, Fla. (PRWEB) October 10, 2018
BeautyChickee – a.k.a. Christina Marie Harris and Teena to friends and family – at 19, is no new-comer to skincare and beauty. Since her uber-successful BeautyChickee YouTube channel went live in 2011, Teena has been testing skincare and beauty products giving her loyal 1m+ cadre of combined internet follows the you heard-it-here low-down on everything from facial cleansers to fake finger nails.
This past spring, Teena hooked up with Palm Beach based entrepreneurs, Amy and Craig Romero, forerunners in the anti-aging skincare sector. Agreeing on a "wow factors" vision of a vegan, cruelty-free and safe for all skin types skincare line, TEENA by BeautyChickee was created. Like any smart entrepreneur the three then went directly to BeautyChickee's mostly teen-aged followers and asked: What do you want in a skincare product? After the overwhelming response, Clar-i-ty Facial Cleanser was born.
So why the Gen Z wow? Because all the bases for this demographic are covered. Formulated with ingredients like salicylic acid, hemp oil and burdock root, Clar-i-ty Facial Cleanser is poised to be a BFF for anyone with acne issues. It's vegan, cruelty-free, with no sulfates or phthalates and naturally derived with organic infusion. The benefits? A trifecta of nourishing, smoothing and purifying and it's pink! Again, with Gen Z in mind the coloring is naturally derived from violet manganese mica. Wow.
"I wanted to create a cleanser that meets the skincare expectations of my generation," said Teena, "the pink color is part of that but more importantly we're offering a safe for all skin types and natural product that helps fight against acne. Seriously. The results are awesome."
Want a sneak peek too? TEENA by BeautyChickee Pre-Sale will be offering 20% OFF the Clar-i-ty Facial Cleanser, ($22), October 12th -14th at http://www.teenaskincare.com.
Launch Event is November 3rd at the Mondrian, Los Angeles. By Invitation Only.
Christina Marie Harris is presently in her second year majoring in Advertising + Marketing at the Fashion Institute of Technology (FIT), New York.
For press inquiries: EAST COAST / Amy Vosejpka amy(at)hragency(dot)co + WEST COAST / Sarah Redfield sarah(at)gachruda(dot)com.