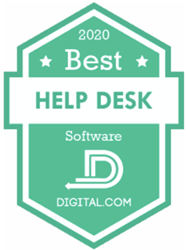 SEATTLE (PRWEB) June 12, 2020
Digital.com, a leading independent review website for small business online tools, products and services, has named TOPdesk to its list of best help desk software solutions for 2020. The guide features 13 top solutions based on customer feedback, pricing, and plan options.
According to Digital.com, help desk software is ideal for small businesses that can not afford a dedicated customer service team. Experts for the website evaluated several solutions with capabilities such as a self-service portal to start requests, a ticketing system for teams to sort and prioritize requests, social media integrations and more. TOPdesk and other software options selected for the final list, all offer flexible pricing and platforms that can be customized to meet the needs of each business.
Wolter Smit, TOPdesk CEO and co-founder: "We know, and our clients tell us, that our solution continues to be first-rate. We're honored to be named Best Help Desk Software for 2020 by Digital.com, and are thankful for our clients and partners for helping us get here."
Digital.com developed this guide to help small businesses and startups make informed decisions about customer service solutions. To access the complete list of top help desk software systems, please visit https://digital.com/blog/help-desk-software/.
ABOUT TOPDESK
Since 1993, TOPdesk has been helping organizations improve their service delivery and create an environment where their employees can thrive. Today, there's over 850 employees spread across 17 offices in 11 countries, helping a community of over 4500 organizations around the world deliver service excellence.
ABOUT DIGITAL.COM
Digital.com reviews and compares the best products, services, and software for running or growing a small business website or online shop. The platform collects twitter comments and uses sentiment analysis to score companies and their products. Digital.com was founded in 2015 and formerly known as Review Squirrel. To learn more, visit https://digital.com/.