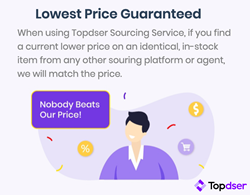 LOS ANGELES (PRWEB) September 01, 2020
Topdser, the premier dropship solution connecting product suppliers with Shopify e-retailers, today announced that it will price-match on all products sourced via Topdser Product Sourcing, the company's recently announced in-house sourcing solution. Topdser is the first and only major dropshipping supplier to offer a low-price sourcing guarantee.
"Offering a low-price guarantee on products sourced through our network reassures our clients that they can expect the most competitive pricing when sourcing products via Topdser," said Elon Zhao, the Founder of Topdser. "Removing the question of where to source products frees our clients to focus on other areas of their business, secure in the knowledge that they're passing along the industry's best pricing to their customers, while maximizing margin to increase their profitability."
Topdser's new price-match guarantee is simple: if a client finds the identical product in stock at a lower price from another source, Topdser will match that price. The only stipulation is that price matching pertains solely to the cost of the product, and does not apply to prices that aggregate the product and related shipping costs. For more information about Topdser's new price-match guarantee, visit
https://www.topdser.com/sourcing.
This July, Topdser expanded its warehousing and processing facility in China, furthering its ability to quickly source products at the point of manufacture. This enabled the company to offer a broad range of overwater shipping options to ensure the most expeditious shipping option available at very competitive pricing. On average, Topdser Product Sourcing ensures delivery two or even three times faster than conventional shipping methods. Additionally, overall costs are reduced for approximately 80% of all orders. With Topdser acting as a single point of contact to evaluate all sourcing and shipping options, dropshippers enjoy a greatly streamlined fulfillment process that delivers the perfect mix of convenience and cost-savings.
Visit https://topdser.com for more information, or set up a free Topdser account at https://app.topdser.com/user/register.
About Topdser
Topdser is the one-stop e-commerce solution that empowers dropshippers like never before. The company offers the industry's only product-sourcing low-price guarantee, with the ability to earn cash back on all qualifying transactions. As an official partner of AliExpress, Topdser empowers sellers to streamline operations and boost productivity, making it easier than ever to source, list and sell. Founded in 2019, Topdser is headquartered in Los Angeles with international operations based in China. For more information, visit https://www.topdser.com/.