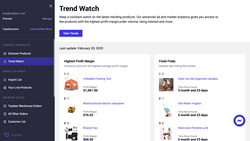 LOS ANGELES (PRWEB) March 09, 2020
Topdser, the premier dropship solution connecting product suppliers with Shopify e-retailers, has completed a major update to its platform that empowers established and emerging e-retailers to achieve greater efficiency and profitability. Available now on the Shopify App Store, Topdser 2.0 includes new features that give sellers valuable insight to ensure they're promoting the hottest-selling products, sourced from a vast marketplace of pre-qualified suppliers while earning AliExpress cash back on qualifying transactions.
"Razor-thin margins and fierce competition in the e-commerce space reward sellers that use dropshipping to their advantage, and that's where Topdser plays a critical role in helping sellers succeed," said Elon Zhao, the Founder of Topdser. "Topdser 2.0 helps those sellers take full advantage of shopper trends in real time, enabling them to increase customer engagement and conversion."
Capitalize on Trends in Real Time
Topdser Trend Watch provides real-time insight about top-trending products. This enables sellers to refine their product assortments, taking into account a number of variables that help sellers understand and quickly respond to ever-changing customer demand. Trend Watch integrates trend rankings to help sellers view top-grossing products with the ability to adjust their product recommendations based on indicators such as the top sellers on AliExpress, most-liked products on Facebook ads, most recently promoted products via advertising, and products with the highest profit margin. Within Trend Watch, sellers can also view detailed product information including descriptions, reviews and audience targeting. Sellers can adjust product assortment and promotion with a single click, ensuring they're offering customers the products most likely to convert into sales.
Easily Source Products from Verified Sellers
Topdser 2.0 takes the guess work out of seller verification. With a vast marketplace of suppliers offering more than 60,000 unique SKUs, Topdser Verified Sellers are fully vetted and offer high-quality products and excellent shipping services. This premium network of dropshipping suppliers in the U.S. and China offers a broad selection of apparel, beauty and other high-margin categories, with detailed and accurate product descriptions. All verified sellers guarantee U.S. order shipment within two business days, and delivery within five to eight days. Topdser holds payments in escrow and acts as a single point of contact to help resolve any supplier/seller issues that may arise. This gives an added layer of protection to sellers, and greatly streamlines issue resolution.
Pricing & Availability
Topdser 2.0 is the ideal platform for sellers of all sizes. The company's Jump Start plan makes it easy for e-commerce entrepreneurs to get started with dropshipping at no cost. This starter pack enables sellers to import up to 1,000 products and execute bulk orders of up to 500 products with one-click bulk orders. Most established sellers will likely opt for either Topdser's Pro or Premier subscriptions ($19.95 and $49.95 per month, respectively) for high-volume transactions with the added benefit of Topdser's cash-back affiliate program, enabling sellers to earn commission on every sale. Visit https://app.topdser.com/ to sign-up for Topdser Jump Start, Pro or Premier.
About Topdser
Topdser is a leading dropship solution that connects product suppliers and e-retailers. The company's platform gives online sellers valuable real-time insight into online shopping behavior to help them adjust promotions for maximum conversion. With these integrated solutions and a thoroughly vetted marketplace of certified U.S. suppliers, Topdser is the one-stop e-commerce solution that empowers dropshippers like never before. Founded in 2019, Topdser is a global company headquartered in Los Angeles. For more information, visit http://www.topdser.com.