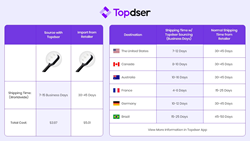 LOS ANGELES (PRWEB) July 27, 2020
Topdser, the premier dropship solution connecting product suppliers with Shopify e-retailers, today announced Topdser Product Sourcing. The new feature of Topdser's dropshipping platform enables cost-savings on international shipping, while greatly reducing global delivery times.
"The Topdser platform is all about helping e-commerce sellers find greater efficiency in their business models to lower operational costs and offer greater value to their respective customers," said Elon Zhao, the Founder of Topdser. "This new sourcing solution combines the best of both worlds – enabling dropshippers to reduce their overall cost of doing business by sourcing more intelligently, and consolidating order fulfillment to save on international shipping."
Topdser recently expanded its warehousing and processing facility in China, furthering its ability to quickly source products at the point of manufacture. This enables Topdser to survey a broad range of overwater shipping options to ensure the most expeditious shipping option available, at the most competitive price.
"Growing our presence in China gives Topdser the competitive advantage of having our choice of shipping options. Our vast fulfillment network makes it possible to reach customers across the globe faster than before, while saving on costs in most cases," continued Zhao.
On average, Topdser Product Sourcing ensures delivery two or even three times faster than conventional shipping methods. What's more, overall costs are reduced for approximately 80% of all orders. With Topdser acting as a single point of contact to evaluate all sourcing and shipping options, dropshippers enjoy a greatly streamlined fulfillment process that delivers the perfect mix of convenience and cost-savings.
Visit https://topdser.com for more information, or set up a free Topdser account at https://app.topdser.com/user/register.
About Topdser
Topdser is a leading dropship solution that connects product suppliers and e-retailers. The company's platform gives online sellers valuable real-time insight into online shopping behavior to help them adjust promotions for maximum conversion. With these integrated solutions and a thoroughly vetted marketplace of certified U.S. suppliers, Topdser is the one-stop e-commerce solution that empowers dropshippers like never before. Founded in 2019, Topdser is a global company headquartered in Los Angeles. For more information, visit https://www.topdser.com/.