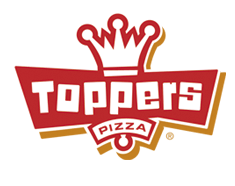 WHITEWATER, Wis. (PRWEB) April 16, 2015
Toppers Pizza (Toppers) is proud to announce it was listed by Franchise Business Review as one of their Top 50 Multi-Unit Franchises for 2015 in a recently released special report. The brand landed in their Top 25 Brick & Mortar Opportunities category.
Franchise Business Review's Top 50 Multi-Unit Franchise report rates the "Best of the Best" and findings are split into two categories: Top 25 Brick & Mortar Opportunities and Top 25 Service Multi-Unit Franchises.
"It's a testament to the incredible model and culture that we've developed at Toppers to be honored by Franchise Business Review," said Mark Cairns, Director of Franchise Development at Toppers. "We have created a lucrative franchise opportunity that is scalable in an industry that isn't slowing down, and we're excited about the potential for explosive national growth moving forward."
Franchise Business Review, a national franchise market research firm that performs independent surveys of franchisee satisfaction and franchise buyer experiences, surveyed more than 6,000 multi-unit operators with at least three units who represent more than 300 leading brands across North America. The market research firm asked questions in the areas of financial opportunity, training and support, leadership, operations and productive development, core values and general satisfaction.
"Our reputation in the industry continues to grow and this ranking is evidence that more and more people are taking notice of the great opportunity for growth that exists with the Toppers family," said Scott Gittrich, Founder and CEO of Toppers Pizza. "We have never sacrificed on quality, and strive to provide only the most excellent of experiences for both our Toppers fans and the franchisees that make up the Toppers system."
Since Gittrich left Domino's to "do pizza better" in 1991, the brand has developed a cult-like following and continues to grow nationally with a rising number of multi-unit deals. The brand kicked off the second quarter of 2015 with the signing of multi-unit entrepreneurs Shane Quail and Chad Hatch from Sioux Falls-based Nordic Venture Partners. The team will open six locations throughout South Dakota and Iowa over the next four years.
After focusing on Wisconsin markets for the first 20 years and selling out the state and coming close in nearby Minnesota, Toppers has moved on to open new locations in surrounding states locations in Michigan, Texas, Kentucky, Illinois, Ohio, Nebraska, Indiana, North Carolina and Arkansas.
"Toppers has formulated the perfect recipe to appeal to the highly coveted millennial generation, but also to savvy investors who like the fresh attitude that Toppers brings to the stability and consistency of the pizza industry," said Scott Iversen, Vice President of Marketing. "Our unique product offerings, irreverent brand voice and passion for top-notch pizza have fueled our growth into new markets and with multi-unit deals and we're well on our way to achieving our goal of 700 locations by 2025."
A brand dedicated to customer service and inimitable offerings shows its success in numbers. According to the Technomic Pizza Consumer Trend Report, of the top 50 pizza companies in the U.S., Toppers Pizza was #1 in overall sales increases from 2012 to 2013 at 17.2%. In the first two months of 2015, Toppers Pizza's sales are up 33% system-wide. The brand reached 70 units in 2015 and much of the company's growth has come from existing franchisees choosing to open additional locations, a testament to the strength of the brand.
ABOUT TOPPERS PIZZA
In 1991, Toppers Pizza began its quest to become the best pizza company in the world by killing it on every detail of the customer experience. Headquartered in Whitewater, Wis., Toppers takes a unique approach to the crowded pizza segment by cooking up mouthwatering specialty pizzas that start with their fresh, made-from-scratch dough, smothered in real Wisconsin cheese and finished with outrageous toppings such as French fried onions, oven-roasted tomatoes, mac 'n cheese and tater tots. Toppers' claim to fame comes in the form of Topperstix™, arguably the planet's most addictively delicious cheesy breadstix. The Toppers empire encompasses 70 restaurants across 11 states and, with its rapid expansion, is in the midst of Midwest and national domination. In 2014, Entrepreneur Magazine ranked Toppers as one of the top 500 franchises in the U.S and QSR Magazine listed the company as one of the year's Best Franchise Deals. In 2013, Nation's Restaurant News declared the brand as one of the 50 breakout chains of the year and Toppers received a No. 58 spot in Pizza Today's top 100 pizza companies. For more information on Toppers, visit http://www.toppers.com, http://www.facebook.com/ToppersRocks or http://www.twitter.com/ToppersPizza.
# # #