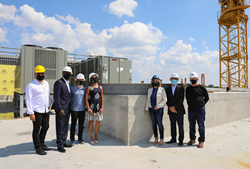 Guests of the Marriott Hotel at Metro Centre will be able to free themselves of distractions when they step into our hotel, allowing them to focus solely on being the best they can be.
BALTIMORE (PRWEB) September 18, 2020
Representatives from David S. Brown Enterprises, Crescent Hotels and Resorts, and Marriott Hotels have celebrated the topping off of the soon to be named Marriott Hotel at Metro Centre in Owings Mills, MD. Construction on the project began in early 2020 and will continue throughout 2021.
Upon completion, the hotel will offer 229 luxury rooms in addition to a 6,700 square foot ballroom, a 4,150 square foot outdoor event terrace, a boardroom with connected outdoor terrace, seven large meeting rooms, a full-service upscale restaurant, a kosher kitchen, a lobby bar and lounge, a coffee shop, a state-of-the-art fitness center, an event hub for conference center, and a covered portico entrance.
The recent redesign of Marriott Hotels will provide a premium elevated experience that speaks to the needs of today's modern traveler. Reimagined rooms offer a spacious and upgraded look complete with tailored solutions that are as inventive as its guests. Based on consumer insights, locally-inspired accents offer a sense of place, closets are open to alleviate fears of leaving clothes behind and the work surface provides flexibility to freely move and use technology wherever the guest desires. Bathtubs have been replaced with deluxe walk-in showers and spa-like lighting to provide a relaxed and upgraded bath experience.
The hotel is being constructed and is owned by David S. Brown Enterprises. Crescent Hotels and Resorts will manage the property. Crescent, based in Fairfax, Virginia is a nationally recognized operator of major hotels and resorts throughout the United States and Canada.
"We want our guests to experience forward-thinking, aesthetically pleasing spaces that help foster their inventive nature and allow them to get into their best headspace for success," said Manny Rappenecker, Vice President, Marriott Hotels. "Marriott Hotels has consistently pushed the boundaries of innovation in travel to create experiences that inspire and nurture our guests' creativity. Guests of the Marriott Hotel at Metro Centre will be able to free themselves of distractions when they step into our hotel, allowing them to focus solely on being the best they can be."
"Crescent's exceptional service and award-winning experience in managing Marriott properties will maximize the potential of this hotel," said Michael George, Chief Executive Officer of Crescent Hotels & Resorts.
Metro Centre at Owings Mills is a Transit-Oriented Development that serves as a mixed-use destination for shopping, dining, working, living, and transportation. The project is set to contain over 1.2 million square feet of office space, 300,000 square feet of retail space, and more than 1,700 residential apartments. Branches of the Baltimore County Public Library and the Community College of Baltimore County are located onsite. Metro Centre also hosts seasonal community events including food truck gatherings and holiday concerts in its public plaza.
Current retail tenants include Eggspectation, World of Beer, Club Pilates, Title Boxing Club, and Times Square Kitchen. In February of 2020, The Met at Metro Centre, the project's newest luxury apartment complex, opened its doors to residents.
The Marriott hotel at Metro Centre is tentatively planned to open in July of 2021.
About David S. Brown Enterprises, LTD.
David S. Brown Enterprises, LTD., founded in 1933 and headquartered in Owings Mills, MD, is a full-service real estate company providing personalized and innovative development, construction, leasing, sales and management services. The company has developed more than six million square feet of commercial projects and over 2300 residential units throughout Central Maryland and Pennsylvania including Class "A" office buildings, residential communities, parking garages, athletic and student housing facilities, retail strip centers and retail big box stores. For additional information, please visit http://www.davidsbrown.com
About Crescent Hotels & Resorts
Crescent Hotels & Resorts is an award winning, nationally recognized, operator of hotels and resorts. Crescent currently operates over 100 hotels & resorts in the United States & Canada. Crescent is one of the few elite management companies approved to operate upper-upscale and luxury hotels under the brand families of Marriott, Hilton & Hyatt. Crescent also operates a collection of lifestyle independent lifestyle hotels and resorts under the Latitudes Collection umbrella. Crescent's clients include premiere REITs, private equity firms and major developers. For more information, please visit http://www.crescenthotels.com and http://www.latitudesbycrescent.com or connect with Crescent on LinkedIn.
About Marriott Hotels
With over 550 hotels and resorts in over 60 countries and territories around the world, Marriott Hotels is evolving travel through every aspect of the guest's stay, helping to relax, clear minds, stimulate new ideas and anticipate travelers' needs, leaving them inspired to reach their full potential. Boldly transforming itself for mobile and global travelers who blend work and play, Marriott leads the industry with innovations, including the Greatroom lobby and Mobile Guest Services that elevates style & design and technology. To learn more, visit http://www.MarriottHotels.com. Stay connected to Marriott Hotels on Facebook, @marriott on Twitter and @marriotthotels on Instagram. Marriott Hotels is proud to participate in Marriott Bonvoy, the new name of Marriott's travel program replacing Marriott Rewards®, The Ritz- Carlton Rewards®, and Starwood Preferred Guest® (SPG). The program offers members an extraordinary portfolio of global brands, experiences on Marriott Bonvoy Moments and unparalleled benefits including earning points toward free hotel stays and nights toward Elite status recognition. To enroll for free or for more information about the program, visit MarriottBonvoy.marriott.com.