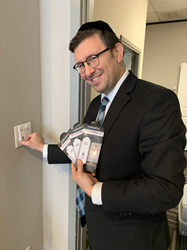 "We wanted to offer a unique Mitzvah opportunity in which every single person, no matter their level of observance or background, could undertake a small step for Shabbat,"
HOUSTON (PRWEB) November 13, 2019
The Torah Outreach Resource Center of Houston (TORCH) has embarked upon an innovative, long-term, and ongoing project to provide complimentary gifts to assist the Jewish community in Shabbat observance ahead of The Shabbat Project international initiative taking place November 15-16. 2019.
Globally, The Shabbat Project will bring together Jews from across the spectrum of religious affiliation and from all corners of the world to celebrate and keep one full Shabbat from November 15-16, 2019. TORCH is looking forward to building upon the momentum and success that will be achieved this weekend with a special, unique gift.
Named "Mitzvah Magnets", these light switch covers easily affix themselves to the outside of most modern light switches via small magnets and can prevent the unintended mistake of turning light switches on or off during Shabbat (and other religious holidays.) According to Halacha, one should avoid all elements of creation, as God did on the seventh day of creation. Jews, therefore, are not permitted to "manipulate" things on Shabbat or involve themselves in the creation of light via electricity.
"We wanted to offer a unique Mitzvah opportunity in which every single person, no matter their level of observance or background, could undertake a small step for Shabbat," said TORCH Executive Director Rabbi Aryeh Wolbe. "Shabbat sits at the moral, religious, and cultural epicenter of the Jewish nation. We hope these Mitzvah Magnets serve as a source of illumination that encourages every Jew to find a new level of spiritual growth within themselves."
The Mitzvah Magnet idea emerged from Rabbi Wolbe's advocacy and firm belief that regardless of their level of observance, Jews should never be labeled as Reform, Orthodox, Conservative etc. Rather, Jews can and should identify themselves as either "stagnant" or "growing" -- with the hope that everyone will adopt a life of inspiration and spiritual growth. To facilitate this transition, TORCH is continually making inroads to encourage every Jew to begin towards their personal growth and development through Jewish learning.
"Good habits require small, baby steps, and the Mitzvah Magnet offers a unique opportunity for that transition to begin, with one easy and simple action each and every week," said Wolbe.
9427 Glenfield Court ᐧ Houston, Texas 77096 ᐧ (713) 721-6400 ᐧ http://www.torchweb.org
While light switch covers such as these have been available for purchase by the general public for years, TORCH's branding and distribution in mass of these covers is unique as an outreach tool that will proactively assist Jews in their ongoing connection with Judaism.
To receive your complimentary Mitzvah Magnet(s), log onto http://www.torchweb.org and click on the large banner advertising "Mitzvah Magnets" at the top of the page to submit your request.
TORCH's mission is to connect Jews and Judaism by providing meaningful learning opportunities for every Jewish individual in the Houston area and around the globe irrespective of background, affiliation, denomination or level of observance and to enable them to experience the joy and vibrancy of Judaism.
9427 Glenfield Court ᐧ Houston, Texas 77096 ᐧ (713) 721-6400 ᐧ http://www.torchweb.org