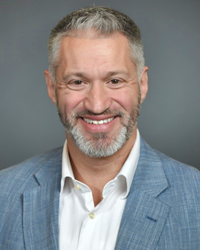 Ivor shares our values and approach to client-centered care, professionalism, and our drive to make this world a better and safer place. - Frank Rodman, Co-Founder and President
LOS ANGELES (PRWEB) September 28, 2021
TorchStone Global, a premiere risk mitigation and security firm, announced today the addition of Ivor Terret to its senior leadership team. Terret brings three decades of security and protection experience in both the government and corporate sectors. The move addresses a growing need among TorchStone clients for tailored, expert, and integrated security solutions spanning executive protection, event security, physical site assessments, protective intelligence, threat assessment, retainer-based security consulting, and customized training.
"Ivor is a well-regarded pioneer of covert executive protection and surveillance detection who is often called upon to develop or realign protection programs for high profile families, Fortune 100 companies and specialized government units," said Frank Rodman, President and Co-founder. "We're excited to welcome him to our rapidly growing global team, where he will serve as a force multiplier. Ivor shares our values and approach to client-centered care, professionalism, and our drive to make this world a better and safer place."
Terret is the owner of Enablement Advisors, a boutique security consultancy and The Enablement Academy of Leadership Excellence. Through Terret's alignment with TorchStone the respective organizations will work hand in hand to contribute to the success of their clients.
"Combining our operational offerings, based on decades of experience and similar operational philosophies will undoubtedly benefit both organizations," said Ivor Terret, Chief Enabler at Enablement Advisors. "Most importantly, it will benefit our existing and new clients by positioning us to offer holistic, turnkey protective solutions at both the tactical and strategic levels in a class seldom seen outside official protective agencies."
Terret holds a MSc in Security and Risk Management from the esteemed University of Leicester. He is a published author and recipient of an Award of Recognition for his contribution to the Israeli Security Apparatus.
TorchStone Global is a strategic security advisory firm uniquely focused on crafting tailored risk mitigation solutions for affluent families, multi-national corporations, and high-profile sporting and entertainment events around the globe. TorchStone's executive team and their global network offer tailored, discreet, relationship-based security solutions for their clients. Combining state-of-the-art proactive strategies with experienced professionals and cutting-edge technologies, TorchStone provides clients around the globe with peace of mind by protecting what is most important to them. For more information, please visit: http://www.TorchStoneGlobal.com.