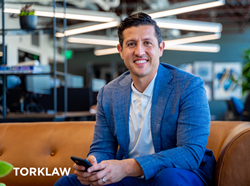 My clients are people who have been harmed through no fault of their own. They have the odds stacked against them, and it's a privilege to use my legal expertise to help them prevail. The Super Lawyers recognition is a validation that my team and I are making a real difference in people's lives.
IRVINE, Calif. (PRWEB) January 15, 2020
Reza Torkzadeh, founding partner of TorkLaw (The Torkzadeh Law Firm), has been selected to the 2020 Southern California Super Lawyers list. This honor is bestowed only on those lawyers who excel in the practice of law: only 5 percent of attorneys in Southern California are named to the Super Lawyers list.
"I am grateful to Super Lawyers for this distinction," said Torkzadeh. "I am honored to be able to represent victims of catastrophic personal injury, and the loved ones of those who have suffered a wrongful death. It is a privilege to give those that we represent a voice in the courtroom. The Super Lawyers recognition is a validation that my team is making a real difference in people's lives."
Super Lawyers is a Thomson Reuters rating service of lawyers. It recognizes attorneys who have earned a high level of professional achievement and endorsement from their peers.
Super Lawyers rates lawyers from more than 70 legal practice areas, using a comprehensive process so unique it's patented. Their results are reached by conducting surveys of lawyers by state, peer reviews by practice area, and independent research and evaluation of candidates. The result is a fair and unbiased rating of attorneys by practice area.
The Super Lawyers lists are published on SuperLawyers.com, in Super Lawyers Magazine, and in leading city and regional magazines and newspapers nationwide.
In addition to being honored by Super Lawyers, Torkzadeh has also been named to U.S. News and World Report's Best Lawyers list every year since 2015. In 2018 and 2019, Reza was recognized on the America's Top 100 High Stakes Litigators list, the Top 100 National Trial Lawyers and Top 25 Motor Vehicle Trial Lawyers list. Reza has also been nominated as Trial Lawyer of the Year by Consumer Attorneys of California.
Perhaps the most important awards Reza achieves are the ones he obtains for clients: more than $100,000,000.00 in judgements, verdicts and settlements throughout his career. Reza's cases have changed corporate behavior and brought about changes in the law to improve safety in our communities. From defective products to motor vehicle accidents, dangerous premises and poorly designed roadways, Reza has dedicated himself to cases where clients would otherwise be voiceless against large, moneyed corporations and government entities.
"My clients are everyday people who have been hurt or wronged in some way by no fault of their own, and too often have the odds stacked against them," said Torkzadeh. "There is nothing I would rather do than to use my training and knowledge of the law to help those people prevail."
ABOUT TORKLAW
TorkLaw is a personal injury and accident law firm with its headquarters in California and offices nationwide. In August, TorkLaw was ranked #797 on the 2019 Inc. 5000 list of fastest-growing private small and mid-sized companies in the U.S.
Exclusively representing victims and their families in serious personal injury and wrongful death cases, this award-winning law firm represents individuals who have been irreparably harmed by the negligence or misconduct of others. TorkLaw's ultimate goal is to not only to obtain appropriate compensation for clients, but to make our communities safer from future misconduct, dangerous products, and hazardous conditions.
Visit http://www.torklaw.com for more information.