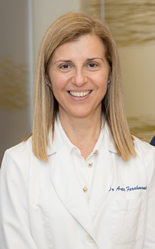 An alternative to conventional orthodontics, the Wilckodontics orthodontic system often cuts treatment time by 50 percent by manipulating the bone that surrounds each tooth.
Torrance, CA (PRWEB) September 17, 2019
Dr. Arta Farahmand welcomes patients with crooked teeth in Torrance, CA to experience revolutionary Wilckodontics® treatment. An alternative to conventional orthodontics, the Wilckodontics orthodontic system often cuts treatment time by 50 percent by manipulating the bone that surrounds each tooth.
Conventional orthodontics uses brackets and wires that apply constant pressure on the teeth, thus causing the tooth roots and bone to readjust so the teeth shift into proper position. This process generally takes up to eighteen months, with some patients needing conventional treatment for over two years. While great results are commonly achieved, the risk of teeth reverting to their original position, or shifting in general, is relatively high. With the Wilckodontics orthodontic system, this rarely occurs, providing more predictable and long-lasting treatment results for patients. Better yet, these results can be achieved in a fraction of the time, usually within three to eight months.
Wilckodontics uses many of the same processes as conventional braces, with one key difference. Otherwise known as Accelerated Osteogenic Orthodontics (AAO™), Wilckodontics treatment first begins with minimally invasive oral surgery to remove a small portion of the bone surface above each tooth. This causes a temporary "softening" of the bone and creates an ideal environment for teeth to move into position quickly and effectively while the bone is in the process of breaking down and rebuilding. This is why the Wilckodontics system offers many patients with crooked teeth an accelerated treatment time lasting several months instead of years.
An experienced periodontist, Dr. Farahmand is skilled in surgical procedures involving the jawbone and has completed advanced coursework and certification in Wilckodontics. She currently leads an interdisciplinary study club that helps bring doctors together to collaborate on the best way to provide a full mouth approach for patients. She collaborates with other dentists and orthodontists to ensure she is providing streamlined, effective treatment for every patient.
Those with crooked teeth who are looking for more accelerated orthodontics in Torrance, CA may benefit from the Wilckodontics orthodontic system. Patients can schedule a consultation with Dr. Farahmand by visiting http://www.periodentalimplants.com or calling 424-488-7500.
About the Periodontist
Dr. Arta Farahmand is an experienced periodontist serving the Torrance, CA area. With knowledge, skill, and dedication, Dr. Farahmand has made it her life's goal to help people look and feel better. Completing her Bachelor's and Doctorate of Dental Surgery degrees from Northwestern University, she later completed her specialty certificate in periodontics from Emory University School of Postgraduate Dentistry. An active member of American Academy of Periodontology, past president of the Western Los Angeles Dental Society and California Society of Periodontics among other organizations, Dr. Farahmand understands just how critical continuing education is in offering high-quality periodontal care. Dr. Farahmand offers the latest techniques for dental implants, laser gum disease therapy, gum recession treatment and a variety of other periodontal services at her state-of-the-art office. To learn more about Dr. Farahmand or her services, visit http://www.periodentalimplants.com or call 424-488-7500 for a personalized consultation.