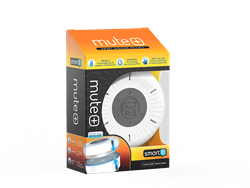 "As smart device owners, we recognized that there are meaningful and increased concerns about smart speaker use and personal privacy, so we set out to create a simple, low-tech solution to a high-tech issue," said Tim Wills, President of Tosech LLC. "The Mute + helps provide consumers with an extra
TORRANCE, Calif. (PRWEB) January 07, 2019
Privacy is a valid worry for consumers using a smart speaker in their home or office. The Mute +™ from Smartē™ provides a simple solution to these concerns by easily connecting on top of select Amazon Echo, Echo Plus or Echo Dot smart speakers and creating an extra layer of trusted protection to the consumer experience. The Mute + will launch at CES 2019 and can be seen in the Smartē booth [#51873], located in The Sands Expo: Eureka Park Marketplace.
Smartē's proprietary technology temporarily blocks any noise near or far from the smart speakers' microphones and the lighted privacy timer can be set for up to an hour at a time. The portable, battery operated Mute + fits easily on top of the smart speaker and can be left there without any audio or visual speaker interference and turned on only when you need it. The durable, sleek design coordinates with most décor and provides a fun way to accessorize or personalize your smart speaker.
The Mute +'s multi-device design allows it to work with the Amazon Echo, Echo Plus and Echo Dot and will be available at http://www.mysmartelife.com as well as other select online and brick and mortar retailers
in Spring 2019.
"As smart device owners, we recognized that there are meaningful and increased concerns about smart speaker use and personal privacy, so we set out to create a simple, low-tech solution to a high-tech issue," said Tim Wills, President of Tosech LLC. "The Mute + helps provide consumers with an extra layer of privacy protection that they control when enjoying their smart speakers."
About Smartē
Smartē is a division of TOSECH, LLC., a dynamic company powered by a team determined to re-imagine the ordinary through insights, innovation, creativity and product narrative to deliver savvy home and life upgrades in a variety of mundane consumer segments.
####