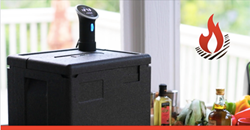 "After preparing food in the sous vide method, a proper finishing sear is essential. Total Sous Vide will give a wide range of people — from gourmet cooks to backyard grillers — the confidence they need in making the perfectly cooked and finished meal, every time."
CHARLESTON, S.C. (PRWEB) October 31, 2018
Cooking on a stove, grill or oven requires time, concentration and energy. It can be difficult to consistently achieve a crispy exterior with a tender, juicy, uniform interior at the desired level of "doneness." To help people cook restaurant-quality meals for family or guests, Total Sous Vide introduces an insulated cook-box and sear-station that produce delicious meals with minimal mess and prep. Today, Total Sous Vide launches a Kickstarter campaign in the hopes of raising $30,000 to help home cooks yield juicy, tender food at the perfect temperature.
"We created this product to give people who are passionate about cooking, or those looking to learn, an efficient and easy way to achieve world-class results," said Thomas Anderson, MD, founder of Total Sous Vide. "After preparing food in the sous vide method, a proper finishing sear is essential. Total Sous Vide will give a wide range of people — from gourmet cooks to backyard grillers — the confidence they need in making the perfectly cooked and finished meal, every time."
Total Sous Vide includes a 24-quart insulated cook-box, used in conjunction with an existing sous vide device, to ensure a convenient, mess-free cooking method. With highly insulative properties and a larger water volume, the cook-box has more room for cooking than most sous vide products and also uses less electricity. After the water is emptied via the convenient side drain, users can open the bags of food inside the cook-box to avoid messes and spills. A stainless steel rack at the bottom of the cook-box serves as a platform to hold meat pre- and post-sear. The box is lightweight and portable for cooking on the go — it is equipped with carrying handles and can hold food at a set temperature for several hours without additional heating. The cook-box is easy to clean and can be placed into the dishwasher after use. It is made from expanded polypropylene, FDA food-approved, recyclable material with a high melting temperature.
In addition to the cook-box, Total Sous Vide includes a stainless steel sear-station, which uses small amounts of wood or charcoal to perfectly sear and flavor food post-sous vide. It uses less fuel than a regular grill and provides multiple cooking surface options. To get the perfect amount of sear without raising the internal temperature, the food needs to be put on an extremely high heat for a short amount of time. The station achieves searing temperatures approaching 1000 degrees. Many home stoves, grills, and ovens can't reach such a temperature. Easy to ignite, clean and carry, the Total Sous Vide sear-station helps cooks get the perfect final aroma, flavor and mouthfeel they're looking for.
Total Sous Vide is currently available for pre-order on Kickstarter for $349.00 USD, which includes the entire Total Sous Vide package with one (1) cook-box and one (1) sear-station, for 50% off of the retail price. It is not required to buy these products together. For more information about the campaign or to place an order, visit pr.go2.fund/totalsousvide.
About Total Sous Vide
Total Sous Vide was founded and designed by Thomas Anderson, a neurosurgeon, food lover, and innovator. Passionate about sous vide, a french cooking method where food is sealed and cooked in heated water, Anderson wanted to help give people perfect, worry-free results, every time. His Total Sous Vide system helps people cook restaurant-quality meals for family or guests with minimal mess and prep. Total Sous Vide was designed for cooks of all different kinds, including gourmet chefs, avid foodies, camping (or glamping) enthusiasts and tailgaters. To learn more about Total Sous Vide, visit totalsousvide.com.