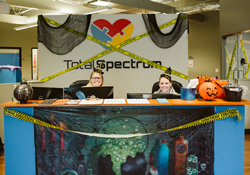 This event was a great opportunity for children to practice for Halloween and for families to come together and build community
CHICAGO (PRWEB) November 01, 2019
For the second year in a row, Total Spectrum – a leading behavioral service provider with locations in Illinois, Indiana, Michigan and Wisconsin – hosted seven festive Halloween-themed parties to help children with autism spectrum disorder (ASD) and their families enjoy fun Halloween festivities in a knowledgeable and sensory-friendly environment. 43 families and 80 children collectively joined the Total Spectrum staff to celebrate with mysterious games and activities on October 29th from 3 to 6pm.
Therapists and staff at the Illinois centers decked out their spaces with fake spider webs, balloons, streamers and spooky décor. Activities included practice trick-or-treating with food allergy friendly candy and toys, a mini pumpkin decorating station, and a witch hat toss. Kids also dug into the Halloween sensory bin for hidden objects further develop motor skills and encourage sensory play.
"This event was a great opportunity for children to practice for Halloween and for families to come together and build community. It gave families and their children a safe and familiar environment to celebrate a holiday they may otherwise not be able to take part in - all while practicing behaviors and skills they work on in therapy," said Megan Romero, Regional Manager for Total Spectrum.
For children with ASD, Halloween can be an overwhelming holiday. Many families prepare by doing a trial run at home with visual stories for the day, costume try-on's and ringing doorbells for candy. Total Spooktrums offers a hands-on and interactive experience with traditional Halloween festivities so children with ASD are equipped to enjoy the holiday. The event also provides children who aren't comfortable partaking in community trick-or-treating or parties the opportunity to celebrate without stress.
Total Spectrum received an Award of Distinction from The Behavioral Health Center of Excellence (BHCOE) as a top behavioral service provider in the country. Based on clinical quality, staff satisfaction, and qualifications and consumer satisfaction, Total Spectrum is ranked as a top behavioral service provider in the nation.
Total Spectrum specializes in Applied Behavior Analysis (ABA), an adaptable therapy that uses the science of learning and behavior to improve attention, refine communication and teach social skills. ABA Therapy is an individualized treatment that takes place at home or at one of Total Spectrum's eight centers located in Illinois, Indiana, Michigan and Wisconsin.
About Total Spectrum
The mission at Total Spectrum is to achieve an environment that allows the clients we serve to reach their maximum potential and highest level of independence. With over 30 years of healthcare background, we know what it takes to achieve success. At Total Spectrum we think that every child deserves individualized attention in order to achieve their maximum level of independence. Through our services we will work to reduce behavior challenges and increase skills important to their daily life. Overall, our goal is to use Applied Behavior Analysis to set up an environment where your family can be comfortable and successful. For more information, please visit https://www.totalspectrumcare.com/