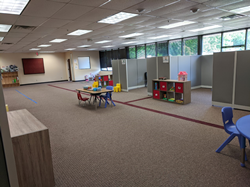 Total Spectrum is excited to bring superior ABA Services the Greater Brookfield community.
BROOKFIELD, Wis. (PRWEB) August 04, 2020
Total Spectrum, a company of behavioral clinicians specializing in the care of children with Autism Spectrum Disorder (ASD) in Wisconsin, is delighted to announce the grand opening of their new ABA learning center in Brookfield, Wisconsin. With the opening of their newest center, Total Spectrum now proudly serves ten different locations across the Midwest. The staff of Total Spectrum extends a warm greeting to the Brookfield community and welcomes anyone who has an interest in joining our family to apply.
"Total Spectrum is excited to bring superior ABA Services the Greater Brookfield community. Our team of highly skilled Registered Behavior Technicians (RBT's) and Board Certified Behavior Analysts (BCBAs) are dedicated to the success of our clients and families. As a company, we value the importance of ongoing staff training, clinical supervision, and regular communication with our families regarding their child's treatment plan and goals," said Brooke Marcellis, Clinical Director for the Brookfield Learning Center.
At Total Spectrum, ABA services are developed and supervised by Board Certified Behavior Analysts (BCBAs) who are licensed and experienced in the treatment of Autism Spectrum Disorders (ASD). After identifying each client's areas of need, the BCBA develops a treatment and behavior plan tailored for them accordingly. These plans include objective and measurable goals while outlining both baseline and mastery criteria.
In each ABA learning center, therapists focus on improving social skills, coping and tolerance skills, family relationships, school readiness skills, vocational skills, independence as well as community participation.
Due to COVID-19 regulations, the new Brookfield center is currently offering social skills groups via Zoom until restrictions are lifted. For parents who are working and do not have additional time to join weekly zoom calls, Total Spectrum will also begin offering Saturday groups from 9 AM – 2 PM in August 2020.
About Total Spectrum
Total Spectrum's mission is to help children with Autism Spectrum Disorder (ASD) reach their maximum potential. With over 30 years of healthcare background, our team knows what it takes to achieve success. Our staff believes that every child deserves individualized attention in order to achieve their maximum level of independence. Using Applied Behavior Analysis, our team can also help to reduce behavioral challenges and increase skills important for daily life. Serving multiple cities across the Midwest, our team strives to provide a comfortable and enjoyable environment for every child and their family. For more information about our services, please visit https://www.totalspectrumcare.com/
Total Spectrum is part of the LEARN Behavioral family of companies, a national organization dedicated to helping all children succeed in school and life. Learn more at https://www.learnbehavioral.com/