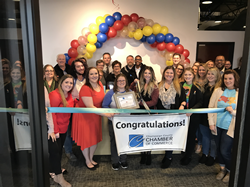 Bringing center-based ABA therapy to Champaign County allows Total Spectrum to become one of only a handful of providers in the area offering an alternative to home-based services
CHAMPAIGN, Ill. (PRWEB) January 21, 2020
Total Spectrum was thrilled to host a ribbon-cutting ceremony for the grand opening of its newly renovated ABA therapy learning center in Champaign, Illinois on Tuesday, January 14th. The location is Total Spectrum's 8th and latest learning center to open in the Midwest.
"Bringing center-based ABA therapy to Champaign County allows Total Spectrum to become one of only a handful of providers in the area offering an alternative to home-based services," said Ashley Warren, Clinic Manager for Total Spectrum's newest ABA therapy learning center in Champaign. "It will allow us to serve clients that we normally wouldn't be able to, working on skills and intervening on behaviors that may not be possible in a home setting. Additionally, it will ensure our continued growth in the area, allowing us to provide high-quality ABA services to even more families in the future, and expand the scope of services we are able to provide."
Applied Behavior Analysis (ABA) is an adaptable therapy that uses the science of learning and behavior to improve attention, refine communication and teach social skills. Total Spectrum's ABA programs include individualized treatment for both at-home and at one of its learning centers located in Illinois, Indiana, Michigan and Wisconsin.
While Total Spectrum has provided in-home therapy in Champaign, Illinois over the past several years, the addition of its newest dedicated learning center will further extend its learning programs to a more diversified area. The latest center's programs include individual and group interaction, play and learning-based instruction as well as additional support for both current and new clients alike.
Dedicated learning centers have become essential to Total Spectrum's core mission for helping children with autism improve communication, friendships, health and happiness. In addition to the newest Champaign location, the company intends to open additional learning centers in the near future as well.
About Total Spectrum
The mission at Total Spectrum is to achieve an environment that allows the clients we serve to reach their maximum potential and highest level of independence. With over 30 years of healthcare background, we know what it takes to achieve success. At Total Spectrum we think that every child deserves individualized attention in order to achieve their maximum level of independence. Through our services we will work to reduce behavior challenges and increase skills important to their daily life. Overall, our goal is to use Applied Behavior Analysis to set up an environment where your family can be comfortable and successful. For more information, please visit http://www.totalspectrumcare.com/