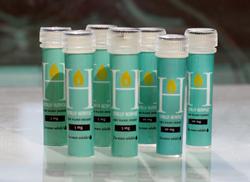 We believe that this product will significantly improve CBD products for the consumer, especially at a time where health and wellness is an economic imperative during the Covid-19 crisis.
BERKELEY, Mass. (PRWEB) October 28, 2020
Totally Hempful Launches Nano Infusion, its New CBD Product Featuring Better Delivery Nanoemulsion Technology.
Totally Hempful, a renowned United States CBD producer, is excited to announce the launch of its new nanoemulsion product called Nano Infusion. Adding to their popular flagship product line including topicals, tinctures and smokables, the new nanotechnology product has proven to be effective, fast acting and easily absorbable.
According to Stewart Sullivan, founder of Totally Hempful, the creation of Nano Infusion was a response to our CBD customers desire for an affordable, fast acting product. Stewart added, "We're really excited about our Nano Infusion! This miniature vial packs a powerful punch. By using proprietary methods, we have concentrated the potent effects of our superior CBD products into a convenient way for our customers to meet their daily CBD needs. Because of the way our chemical-free process breaks down the molecules of CBD, Nano is the most easily absorbed of all our products. It's got all of the benefits of our cannabinoid-rich CBD oils and most importantly, our customers feel better, quicker. So far, the reception to our Nano vials has been exceptional, from both distributors and the retail market."
"Our goal was to create a highly intelligent product using a manufacturing process that not only delivers superior absorption capabilities, but solves the problems nano-emulsified hemp oil and isolates present. We believe that this product will significantly improve CBD products for the consumer, especially at a time where health and wellness is an economic imperative during the Covid-19 crisis. Interestingly enough, new evidence is adding support to the theory that cannabis derived CBD may help those suffering from the severe lung inflammation that occurs in more serious cases of COVID-19," ended Sullivan. Learn more at TotallyHempful.com.
According to the Totally Hempful lead scientist Jon Hailey, nano-sized delivery technologies have been widely used by pharmaceutical companies to ensure bioavailability. "Nano CBD is a CBD molecule coated with very small particles, such as liposomes or lipid nanoparticles (LNPs), that stabilize the CBD and can move in our blood faster than 'naked' CBD" he explained. Our CBD Nano Infusion helps maintain homeostasis in the endocannabinoid system. The CBD infused water acts on CB1 and CB2 receptors. Nano Technology is known for its extremely effective bioavailability and can exhibit up to 9X better absorption than larger CBD molecules. By using hemp and its natural healing properties creatively, we were able to create a specialized product acknowledging that the onset of nanoparticles takes about half as long as regular CBD," ended Hailey.
Packaged in a single-use vial, the Nano product is water soluble, safe, affordable, easy to use and blends effortlessly into any beverage or food providing an exponential increase in bio-availability over standard oil. The vials are available in 2.5 mg, 5 mg, or 10 mg dose, can be purchased online at http://www.totallyhempful.com and will be distributed to brick and mortar stores throughout the USA.
About Totally Hempful
Totally Hempful LLC, is a global company, privately held and headquartered in Massachusetts. The company is known for its 'sensory learning' destination farm, giving it a unique identity in the Cannabis space. The experiential approach is a powerful key providing transparent and positive knowledge-based information to visitors, as well as experiences by stimulating effectively the five senses: sight, sound, smell, taste and touch.
Along with its farm destination, Totally Hempful is focused on growing organic CBD, high quality, seedless harvests combining ideal production, science, technology and innovation. The cannabis and hemp company, led by an industry leading team cultivates, processes, develops and distributes its cannabis through its company's facilities thus controlling every aspect of the supply chain; from farming to extraction and purification, to product manufacturing, on-site laboratory testing, bulk CBD and retail distribution. Complete vertical integration ensures the highest quality control for all of its hemp CBD products. Totally Hempful strives to deliver high quality products across all levels of the cannabis and hemp ecosystem. For more informaiton, please visit TotallyHempful.com.