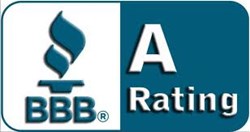 We are very honored to receive an outstanding "A" Rating from the Better Business Bureau. It is a culmination of our customer focus, recognition by customers, meeting rigorous standards and building a strong track record for over 11 years.
Elmont, NY (PRWEB) November 18, 2013
Total Security has received an A rating from the Better Business Bureau for their outstanding service in the New York security camera systems, video surveillance systems, burglar alarms and access control marketplace.
The Better Business Bureau rating system is a system used to give businesses a grade on a scale from A+ to F-. The purpose of the system is to evaluate suppliers and assist consumers into choosing trustworthy companies. A few of the things that the BBB ratings system rates is advertising ethics, complaints about the business and the amount of time the business has been functioning.
The A Rating is a reflection of what the brand stands for. Still, this was not a grade that Total Security received overnight. Total Security has been presenting this high level of service for over 11 years. The company went through rigorous steps to become certified and acquired the proper licensing to operate as a security company that can sell and install security cameras, video surveillance systems, burglar alarms and access control systems.
There are a variety of things that the company did to improve service in 2013, including having customers complete customer surveys to ensure that customers were receiving the best service possible, as well as identify ways to continually improve customer satisfaction levels. There were numerous meetings with technicians and office staff, reinforcing customer satisfaction. Total Security technicians are also required to participate in webinars and classes to learn about new products in the marketplace and better serve the needs of existing and new clients. They also expanded their website resources and continue to post blog articles regularly at http://www.totalsecurityny.com.
Total Security realizes that in the end, while the grade is a reflection of their uniquely qualified team, it couldn't have been possible without the customers and their tremendous satisfaction and support.
"We give customers the white-glove treatment and make sure at the end of the day they are completely satisfied with our service," says Total Security CEO, Matthew DiMicco. It's not enough to tell the customers they are number one, you need to show them they are number one. It's important that the service has to be the absolute best because the customers are responsible for our grade as much as we are. It's a total team effort."
Customers have responded very positively to the grade. The company grew largely in 2013 increasing by over 30% in revenue, staff and customers. Total Security continues to receive outstanding feedback as well. This is evidenced in the numerous high-rated customer surveys they have received, as well as the multiple five-star reviews on Yelp over the past month.
Any homeowners or business owners in the New York area looking for security camera installations companies can contact Total Security at (516) 775-2304 with any questions they have or visit their Elmont, NY store.
About Total Security Integrated Systems:
Full-service, affordable loss prevention and NY security camera company for homes and businesses in the New York Tri-State area including Manhattan, Bronx, Queens and Long Island, including Nassau County and Suffolk County. Security camera installations company specializing in professional installations & service of video surveillance cameras, security cameras, access control, intercoms, biometrics & GPS tracking.