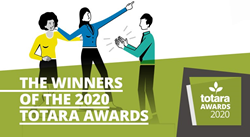 "Our community of partners and customers around the world have demonstrated that the flexibility and adaptability of the Totara platform facilitates a rapid and positive response to dramatic change," said Lars Hyland, Chief Learning Officer of Totara.
SAN FRANCISCO (PRWEB) January 26, 2021
Totara, a leading provider of enterprise learning, engagement and performance management technology, today announced the winners of the 2020 Totara Awards. The Totara Awards recognize the most innovative, inspiring and successful implementations of Totara's products.
Led by Lars Hyland, Totara's Chief Learning Officer, and Lori Niles-Hofmann, Senior EdTech Transformation Strategist at NilesNolen, the 2020 awards saw an influx of entries relating to platforms created to support employees throughout COVID-19. With Totara, organizations were able to rapidly adapt their existing and new learning solutions to deliver life-saving learning worldwide. 2020 also saw the launch of Totara's Talent Experience Platform, comprising Totara Learn, Totara Engage and Totara Perform, offering organizations more options than ever before to create adaptable learning and people management solutions.
This year's project winners are:

Best Business Services Project - Deloitte Accountancy/The Client by Deloitte Belgium
Best Education & Training Project - BeReady by Accipio
Best Finance & Insurance Project - Western Union by Synergy Learning; Highly commended: Banco Santander by Glow Chile
Best Government Project - Nottinghamshire Fire & Rescue Service by Synergy Learning
Best Healthcare Project - Istituto Superiore di Sanità by Media Touch
Best Hospitality & Travel Project - Sharjah Commerce and Tourism Development Authority by Human Logic
Best Manufacturing Project - Etex Building Performance by Chambury Learning Solutions; Highly commended: Watts Water Technologies by Kineo US
Best Non-profit Project - National Anti Doping Agency by LearnChamp
Best Retail Project - Kmart by Catalyst AU; Highly commended: Holland & Barrett by Hubken Group
Best Sport & Lifestyle Project - AFL Coaches Association by Androgogic
Best Technology & Media Project - Glovo by Actua Solutions
The overall winners of the Totara Partner awards are:
Global Partner of the Year - Catalyst IT
Top Seller APAC - Androgogic
Top Seller Americas - Kineo
Top Seller EMEA - Think Learning
Global Partner of the Year, Catalyst IT, is one of Totara's founding partners. Catalyst IT was selected for this coveted award based on its commitment to best practice software maintenance as well as their excellent customer service. Catalyst IT has contributed code to the core Totara product offering and has extensive experience in creating large-scale sites for 20,000+ users. Catalyst has entities in New Zealand, Australia and the UK, giving them excellent global coverage. Some of their key customers include multiple New Zealand government departments including the Ministry of Justice, Department of Internal Affairs and the Customs Service, along with organizations such as the Humanitarian Leadership Academy, British Dental Association, New Zealand Family Planning and Kmart.
Androgogic is a long-standing recipient of Totara's Top Seller APAC award, with customers such as Tennis Australia, the Australian Football League and the Law Society of New South Wales. Kineo US serves customers such as US Beef, City Electric Supply and Watts Water Tech, while Think Learning specializes in learning management systems for the high-consequence industries such as healthcare, with customers including many NHS trusts, The Doctors Laboratory and Hampshire Trust Bank.
Lars Hyland said: "Reviewing the Totara Awards submissions this year has been particularly humbling and impressive. Our community of partners and customers around the world have demonstrated that the flexibility and adaptability of the Totara platform facilitates a rapid and positive response to dramatic change. I would like to thank all of those who entered and while not everyone can be a winner this time around, there are some exciting prospects for next year. Thank you also to Lori Niles-Hofmann who assisted in the judging process."
Lori Niles-Hofmann said: "This year I was completely blown away by the herculean efforts undertaken by L&D teams around the world to support their businesses and employees during the COVID-19 pandemic. Everything from scaling traffic from a couple of thousand to hundreds of thousands of users, to reimagining the learning experience to accommodate fresh volunteers to supporting experts and every learner in-between. These were stories of learning strategy done right and with purpose. This is worth celebrating."
The project award winners will receive a waka (a Māori canoe) award made from reclaimed genuine Totara wood, and will have the opportunity to participate in a series of Totara Community webinars over the next year to demonstrate their award-winning work to the Totara network.
For more information about the awards, this year's winners and the next entry period, visit the Totara Awards page.
About Totara
Totara builds employee engagement, learning, and performance management technologies that enable large multinational corporations, government entities, and mid-market companies to deliver enterprise-level talent and workforce experiences. Totara's Talent Experience Platform unifies a transformational learning management system (LMS), a user-centric learning experience platform (LXP), and a comprehensive performance management system under a single and highly adaptable architecture. Totara's flexible architecture gives organizations the freedom to innovate, the freedom to choose, and unlocks critical resources for reinvestment into where it really counts.