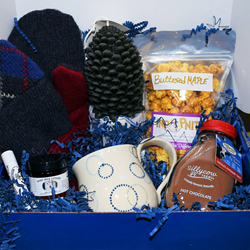 We love the culture of New England and wanted a way to share the region's quality products with people who may not be able to visit right now.
DOVER, N.H. (PRWEB) February 10, 2021
A new company in New Hampshire aims to support local businesses by delivering New England made products to customers' doorstep. Touch of New England is a service offering New England-made subscription boxes which showcase the quality craftsmanship found in many of the region's products. While the pandemic reduces direct traffic to small businesses in the northeast, customers can still receive handmade and unique goods through Touch of New England's curated collections.
Touch of New England owner Angela Mills explained that the pandemic has taken its toll on producers across the country. She wanted a way to highlight the dedicated businesses in her backyard. New England small businesses generally receive income from tourism, but the current pandemic has drastically reduced travel over the last year, thus substantially limiting commercial income. "We want to help these local shops get their products into customers' hands without requiring that foot traffic," Mills said.
With 15 years of professional experience with nonprofits and small business development, Touch of New England was a natural transition for Mills. She sees it as a way to directly and positively impact the area small businesses and artisans. It allows her a way to help highlight Main Street businesses who may be suffering from lack of more traditional sales.
The company assists by seeking quality items produced in the northeast and assembling them into unique collections. Customers can choose between various themed boxes. Some themes highlight the allure and culture of New England, such as "Winter Wonderland," "Lobstah Bake," and "Magnificent Maple." Other themes celebrate ideas which may not be specific to the region, but contain quality goods made in the region, such as "Pump Up the Jam" and "Bee My Honey."
"We love the culture of New England," said Mills, "and we believe in supporting local businesses." Mills said these subscription boxes give them a fun way to spotlight the goods produced in the area they call home. Items available include products from staple brands like Stonewall Kitchen in Maine or Yankee Candle in Massachusetts but also from companies with a smaller reach. Shipments have included a New Hampshire made version of the now popular "Bernie mittens," candles handmade in Connecticut, maple syrup made in Vermont, and ceramics made in Rhode Island. Boxes generally include handcrafted home goods, lifestyle items, and snacks, embracing the unique and unexpected.
Mills said these boxes make great gifts. They have received gift orders for Christmas, Valentine's Day, birthdays, and have had inquiries about Mother's Day items. Subscription boxes can be sent to family and friends who have moved out of the region, to college students away from home, or to any loved one who appreciates the quaintness of the area. "I won't include any products that I won't use myself," Mills said, "so if something is in a box, it's because I love and use it."
Being environmentally aware is also an important factor to Touch of New England. In addition to using shipping products made from recycled materials, they welcome
producers who upcycle or focus on reducing waste and supporting the environment. "As much as possible, we seek locally produced goods from environmentally friendly companies," Mills noted. They prefer producers who also shop locally and procure their materials from area businesses.
Touch of New England welcomes craftsmen from across the six states who are interested in participating with a collection. Businesses included in a subscription box can find themselves featured in Touch of New England's blog, in social media, and in printed inserts.
Touch of New England is a woman-owned, eco-friendly business located in New Hampshire. It can be found online at touchofnewengland.com or on Instagram, Facebook, or Twitter. Signing up for the newsletter can provide insights and special offers.