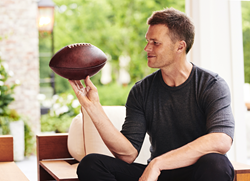 "The Molecule team, like me, is comprised of parents who have to balance their professional lives with their families and have a real passion to sleep and perform better." -Tom Brady
CHICAGO (PRWEB) September 12, 2018
Molecule, makers of a leading-edge sleep system that is used by the world's best athletes, has formalized a multi-year partnership with five-time Super Bowl Champion, Tom Brady. Brady, who sleeps on a Molecule mattress, will be an integral part of Molecule's growth, both as an ambassador and investor.
Tom Brady has quarterbacked the New England Patriots in eight Super Bowl appearances, and has helped the team secure five Super Bowl victories. He has been honored with four Super Bowl MVP awards, the most ever by a single player, and has never had a losing season as a starting quarterback. Brady is one of the most decorated football players in the sport's history, and has been described as one of the greatest quarterbacks of all time.
"The Molecule team, like me, is comprised of parents who have to balance their professional lives with their families and have a real passion to sleep and perform better," said Brady. "Sleep has historically been an overlooked aspect of wellness and overall performance, but Molecule is focused on this and is one of the products I use to optimize my sleep for performance. Their mattress is designed to keep me cool throughout the entire night by conducting the right amount of heat away from the body, which promotes the deepest sleep possible."
"We are excited to welcome Tom to the Molecule family," said Raymond Lyle, Co-Founder and Chief Marketing Officer for Molecule. "Molecule is an organic and authentic fit with Tom and his lifestyle, and we immediately recognized his commitment to the brand and our future sales, marketing and education endeavors. Together, we are confident that we will communicate the differentiators of Molecule that help athletes and non-athletes alike sleep cooler, more efficiently and ultimately maximize their recovery and well-being.
Molecule's first-of-its-kind mattress is designed to regulate core body temperature with proprietary Air-Engineered™ technology. The proprietary foam used in their mattresses delivers almost 3 times the airflow of the leading competition, resulting in better heat dissipation, and ultimately better quality sleep.
"The team at Molecule is honored to join forces with such a legendary athlete, father and role model," said Channing Chor, Executive Vice President of Business Development for Molecule. "From the early days of our company, we knew that Tom would be the perfect partner for us. Tom understands all elements of Molecule, including the goals and mission of our executive team and the latest research and science in sleep technology. It's a testament to what we are building at Molecule that Tom has tested and backed our products, and our focus on recovery and performance perfectly aligns with his philosophy. We look forward to sharing more about why world-renowned athletes like Tom Brady trust Molecule for maximum rest and recovery."
Using Air-Engineered technology and proprietary foam, Molecule differentiates themselves by helping sleepers achieve more non-REM or slow wave - sleep, the deepest stage of sleep, which enables the body to best restore its muscles, joints and bones. Each component of Molecule mattresses has been engineered to work synergistically to maximize comfort and heat dissipation for the best recovery-focused sleep.
Brady will rely on Molecule as his exclusive mattress partner. His season with the New England Patriots, alongside his personal passions, daily adventures, and tips for optimal health can be followed on his Instagram account. Molecule products are available online at onmolecule.com
About Molecule
Molecule, a premier performance sleep company, designs products that are Air-Engineered™ for cooler sleep, helping people achieve optimal rest and recovery so they can maximize performance in their active lifestyles. Developed by a team of renowned sleep scientists, neurologists and engineers, Molecule products are trusted by elite athletes such as Tom Brady, Russell Wilson, Nastia Liukin, Ryan and Sara Hall and Susan Francia. Molecule products are designed in the USA and are delivered directly to your door with free shipping and risk-free trials. For more information, visit us at http://www.onmolecule.com