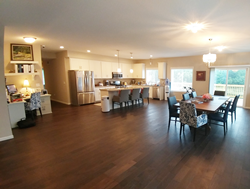 "The residents' grandchildren love sending messages, uploading photos, and connecting via video chat at events. They feel like their grandparents are with them."
WEST BEND, Wis. (PRWEB) May 20, 2020
Touching Lives, provider of senior day services in Savage, MN, will be opening a new 6-room Care Home in July. Like the company's previous construction model, the entire residence will be outfitted with GrandCare technology to enhance the quality of care and attention for the senior residents who live there, while providing cognitive assists, entertainment and a high-quality, innovative connection to family.
Touching Lives has installed a GrandCare easy-to-use touchscreen in each bedroom. Each resident can use their private GrandCare for medication reminders, daily schedules, music, YouTube videos, games, video chatting and photo/message sharing with family and friends. Deborah Delaney, founder and CEO of Touching Lives, says her current residents love their experience with GrandCare, especially during the pandemic. "The residents' grandchildren love sending messages, uploading photos, and connecting via video chat at events. They feel like their grandparents are with them."
"We are delighted to participate in this holistic and innovative approach to serving older adults," said GrandCare CEO Laura Mitchell. "In addition to addressing health and safety needs, Touching Lives gets it. They understand that the individual's emotional and social connectedness are equally important considerations."
In addition to its social and video functions, GrandCare provides wireless remote activity monitoring and telehealth sensors that can alert designated family or caregivers when a resident needs assistance, or something is amiss. For example, if a resident has a fever, fails to access medications or doesn't get out of bed, a caregiver could be automatically notified. GrandCare's HIPAA video chat can connect residents with caregivers or clinical providers, and GrandCare 'Care Notes' provide a remote communication messaging platform between families, providers and caregivers
"Video calls have been great," said Delaney. "We're even going to try remote physical therapy for one of the residents."
GrandCare makes the residents feel more secure as well, according to Delaney. "Residents welcome the alert buttons to ask for help." Each resident has a push-button pendant that sends alerts to the on-duty caregiver's GrandCare System at a central location. Sensors in each room are programmed to send alerts for unusual activity, e.g. if the resident isn't up by a certain time in the morning, or the resident is getting up in the middle of the night. Sensors on exit doors can alert the caregiver if someone is coming or going at odd hours.
Delaney added, "The motion sensors have been a life saver for several residents. They have lowered our fall risks when a resident has tried to get out of bed."
In addition to phone and text alerts, Touching Lives has set up a central GrandCare station to receive alerts, which means the wireless pendants and sensor alerts continue to work, even if the Internet goes down. "The staff like being able to generate a shift resident summary for the management team, with details on each resident," said Delaney.
About GrandCare Systems
GrandCare, on the market since 2005, is designed to reduce hospitalizations, manage health conditions and keep individuals more independent and connected to their loved ones. The heart of GrandCare is a large touchscreen appliance, which provides the individual with social communications, games, music, instructions, reminders and medication prompts. Optional telehealth & activity devices can wirelessly report information and remotely send email, text and phone alerts to caregivers if something seems amiss. No computer skills are needed for the resident. GrandCare is utilized by family caregivers, professional in-home care organizations, senior housing communities and disability providers. For more information, visit: http://www.grandcare.com, call 262-­338-6147, or contact sales@grandcare.com.
About Touching Lives Community
Touching Lives Adult Day Services is an adult day program specializing in providing superior and comprehensive Senior Care Solutions. It is a place where a vulnerable adult can come during the day to participate in one-of-a-kind programs and care services designed to enhance social and physical well-being while supporting one's cultural values, traditions and preferences. Touching Lives Adult Day Services participants realize the fullest possible journey with utmost respect. Touching Lives Community of Savage is a Residential Care Home with six bedrooms.Touching Lives is a state-of-the-art premiere residential senior care, memory care and hospice care home, providing an alternative to large-scale care facilities. The mission of Touching Lives Community is to provide quality care with cultural comfort, enabling our residents to age with dignity, love and compassion. http://www.touchinglivesmn.com/