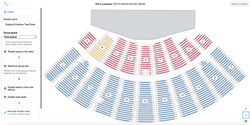 "TouchPoint Ticketing worked flawlessly, and people loved it. Much more efficient use of our space too, which is critical right now. Big win."
DALLAS (PRWEB) December 03, 2020
TouchPoint, a church management system (ChMS) used by congregations nationwide, now includes a feature for ticketing individual seats that will help houses of worship plan events and responsibly reopen while maximizing available space.
An engaged community of fans and users of the ChMS regularly suggest new additions or features to the platform, making it purpose-built for the very audience it serves. This latest change is no different. Commissioned by Bellevue Baptist Church in Tennessee, the ticketing feature folds directly into both the desktop and mobile versions of TouchPoint. The integration means churches no longer need to migrate data from third-party vendors like Eventbrite or Brushfire to their church management systems, saving both time and effort.
The new feature also reduces costs. Churches can save over 75% vs. what competitors charge, with even greater cost savings for buying in bulk. According to MarketWatch, these savings will be a welcome boon to congregations, many of which have seen their budgets shrink during the pandemic.
So, while local and statewide closures start and stop until a majority of the public can be vaccinated, TouchPoint users can enjoy the platform's ticketing feature, which includes customizable social distancing rules that churches can use to maximize their facilities while keeping congregants safe.
Village Bible Church in Illinois especially appreciates the ability to apply social distancing parameters when using the TouchPoint ticketing feature. "It worked flawlessly, and people loved it," says executive pastor Keith Duff. "Much more efficient use of our space too, which is critical right now. Big win."
The feature has added functionalities that churches applaud. Unlike other event management and ticketing systems, TouchPoint allows users to build their own venues within the platform while giving churches the flexibility to offer a hybrid of in-person and virtual ticketing. In addition, churches can provide discount codes and services such as childcare during the same ticket-sales process.
"We're proud to debut a feature that meets a demonstrated need identified by our community of church leaders," says Andrew Triplett, director of consulting at TouchPoint. "These partnerships guide the platform's development and ensure its offerings are aligned with what churches truly require, not just what technologists think they need."
To schedule a demo of the TouchPoint platform and its robust ticketing feature, please email brian.bishop@touchpointsoftware.com.
About TouchPoint
TouchPoint is a powerful, cloud-based church management system that equips leaders to grow fully devoted followers of Christ. TouchPoint is designed for midsize to large churches looking for a ChMS solution that's ready to use and customizable. Its best-in-class, fully integrated mobile app helps users with contact records, membership management, volunteer management, child check-in, discipleship groups, ministry engagement, contributions, events, media, and more.