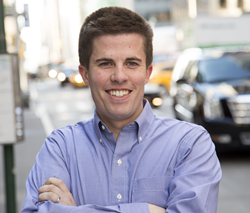 "Probably the most exciting thing about TouchPoint is its strategy around mobile technology. We live in an age where everybody has a mobile device in their pocket at all times. I see this as a way that our congregants can easily engage with us wherever they are, whenever they're compelled to act."
DALLAS (PRWEB) November 14, 2019
TouchPoint Software, a church management system based in Dallas, Texas, is pleased to announce that Chris Dolan has been named the company's new Vice President of Product and Strategy. Chris is a church technology thought leader. He brings ten years of experience in developing and applying technology-driven solutions in ministry to TouchPoint.
For ten years prior to joining TouchPoint, Chris served as Director of Information Services at Redeemer Presbyterian Church in New York City, a prominent and influential church. Under his leadership, Redeemer became a leader in its use of new technology solutions to streamline ministry processes and effectively reach people. In his new role Chris will oversee TouchPoint's product development and strategy.
Speaking of his enthusiasm for TouchPoint's service to larger churches, Dolan said, "TouchPoint has been a strategic partner for us at Redeemer. It's an essential tool for how we do ministry. I believe in TouchPoint's direction. When it comes to church management systems, churches have two basic options. They can choose something rigid and off-the-shelf or something custom. Off-the-shelf solutions don't have the flexibility that larger churches need, which is the ability to do specific things in a particular way. Custom work is expensive to build and even more cost-prohibitive to maintain. It's a flawed way of doing things. I love the ministry mindset of TouchPoint. I love that we partner with other churches so that they don't have to resort to developing software solutions themselves."
TouchPoint's president, Ross Miller, echoed Dolan's excitement for the company's future, and the role he will play. "We have been processing this decision with Chris for some time now, and I couldn't be more thrilled that he is joining the team," he said. "Chris is a key leader in developing new ways to make ministry effective through technology. We knew he was the right person to step into this role. TouchPoint has tripled in size in the past three years. Now that the time is right for him to come on board, I'm excited to see where TouchPoint goes in 2020 and beyond."
In 2017, Chris and his team at Redeemer were instrumental in advancing the development of TouchPoint's breakthrough mobile app. Through that partnership, the app launched with features and functionality that are unparalleled in the church market.
Chris says, "Probably the most exciting thing about TouchPoint is its strategy around mobile technology. We live in an age where everybody has a mobile device in their pocket at all times. I see this as a way for our congregants to easily engage with us whenever and wherever they are. We no longer have to wait until somebody is in the pew on Sunday morning or in front of their computer at home to sign up for a community group, make a gift, or engage with the church. Now, they can pull out their phone and do that quickly and easily. That experience is something special we can offer to churches."
Though Dolan acknowledges that he will miss his former organization, he is looking forward to the future. "It was hard to leave Redeemer because I loved my team. I love my church and what I was doing to serve it. But I also believe in the vision of where TouchPoint is going. It's a team with a ministry-oriented heart that I want to be a part of. I have a lot of ideas that I can contribute to take the product where it needs to go."
TouchPoint Software, a Pursuant Group Company, is based in Dallas, Texas. TouchPoint originated out of Bellevue Baptist Church in Memphis, Tennessee, with a vision of being built by the church, for the church. It serves more than several hundred churches. TouchPoint's web-based solution helps churches move believers toward maturity by supplying tools that engage and connect people to community.
For more information, visit http://www.touchpointsoftware.com
For inquiries, please reach out to Leah Davenport, Marketing Manager at TouchPoint Software.
Email: leah.davenport@touchpointsoftware.com
phone: 214.866.7738