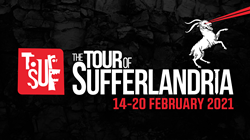 "The Tour is a lot of fun and a lot of work," says Huley. "You build camaraderie with the riders. Wahoo SUF a positive group and the Davis Phinney Foundation is a positive group, and you get to see these two groups uniting to support each other and help people with Parkinson's."
LOUISVILLE, Colo. (PRWEB) January 20, 2021
Oh the Davis Phinney Foundation is so ready for this. The 2021 virtual Tour Of Sufferlandria is ready to launch. Join The Wahoo SUF Training app and the Davis Phinney Foundation's Team DPF for a week of inspiring (and challenging) indoor cycling workouts and a great event to raise funds to help people with Parkinson's live well today.
Fun and fierce (and also playful and modified) workouts are waiting for everyone all over the world who want to join with the Davis Phinney Foundation to train, exercise or just move for seven days, Feb. 14-20, 2021. All participants need is an indoor trainer of any kind and the Sufferfest app which can be used for free for 14 days.
The virtual event–now in its 9th year–raises hundreds of thousands of dollars every year. With thousands of rider participants from every corner of the world, this is the winter motivation riders, runners and anyone else needs to get moving, complete with virtual high fives and onscreen competition and laughter.
How it works: In mid-January, the Tour will announce the official 2021 route. Participants register by signing up and donating at least $15 to the Davis Phinney Foundation.
For every $10 donated or fundraised, participants earn one chance in the prize pool.  Even better: Anyone can start a fundraising page and ask friends to donate to the cause. Each $10 raised also earns another chance to win. Prizes this year will include a variety of amazing cycling items, including gear from Sur Phytoperformance, Wahoo, Thule, ENVE, Rapha, GIRO, Oakley, Primal, Velocio, Scratch Labs, VeloInk, and more.
"In 2018 I participated in my first Tour of Sufferlandria," says Pete Huley, a man with Parkinson's who lives in North Carolina. "I was hooked... I've done every tour since my first in 2018, and I am ready for ToS 2021!"
Ride the video(s) for each stage of the Tour on the day specified. One week after the Tour, Team DPF will take all the donations and randomly select winners for the prize pool.
"The Tour is a lot of fun and a lot of work," says Huley. "You build camaraderie with the riders. Wahoo SUF a positive group and the Davis Phinney Foundation is a positive group, and you get to see these two groups uniting to support each other and help people with Parkinson's."
Participants of all abilities are welcome. Participants can fundraise or make a one-time donation. All of the funds will go to the most-worthy cause of helping people enjoy their lives.
The Davis Phinney Foundation was founded by Olympic cyclist Davis Phinney in 2004 to help people with Parkinson's live well today. The organization's focus is to provide programs and resources that offer inspiration, information and tools that enable people living with Parkinson's to take action that can immediately improve their quality of life. Parkinson's is the No. 2 neurodegenerative disease – second to Alzheimer's – and affects over 1 million people in the United States. The Foundation's work impacts hundreds of thousands of individuals and families each year.
Team DPF  is the grassroots fundraising community that supports the Davis Phinney Foundation through participation in a wide range of athletic and community-based events. With a focus on fun, personal empowerment and fundraising for Parkinson's, Team DPF welcomes all ages and abilities. With roots in cycling, Team DPF also extends to runners, climbers, swimmers, hikers, community events and more. Team DPF is sponsored by: Primal, Sur PhytoPerformance, Wahoo SUF, Baker Insurance, Skratch Labs, Altra Running, Roll Massif and Trek. Visit http://www.dpf.org to learn more.
CONTACT: Rebecca Reifel
Events and Development Manager
Phone 720-259-8387 | rreifel@dpf.org