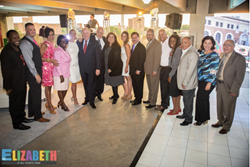 "This showcase is an opportunity to present a taste not only of our diverse restaurant offerings, but it also brings together in one location each sector that makes Elizabeth so special and culturally unique."
Elizabeth, N.J. (PRWEB) April 25, 2016
April 25, 2016 — Due to the forecasted inclement weather,the Elizabeth Destination Marketing Organization [EDMO] will postponetheir May 4th, Travel Rally Day. The rescheduled rain-date is set for Wednesday, May 25th, 2016. Originally the event was organized as part of National Travel and Tourism Week (May 1-7), to voice support for the industry and its impact on Elizabeth, New Jersey's economy and the lives of its citizens and visitors. New Jersey's newest tourist destination, Elizabeth, NJ will offer tastings of its best cultural cuisine and displays of its historic attractions during an elegant "Cocktail Reception at Sunset." This event is part of the 33rd annual National Travel and Tourism Week (May 1-7), which unites communities across America each year to celebrate what travel means to American jobs, economic growth and personal well-being.
Travel and tourism is one of America's largest employers, ranking in the top 10 in 49 states and the District of Columbia. In Union County, 23,104 workers hold travel- and tourism-related jobs, which are supported by business and leisure traveler spending that totals 7.8% of the county's total share of total employment. In 2015, tourism direct sales in Union County generated $1.334 billion dollars (a 3.8% growth from 2014), that of which Union County contributed to $177 million dollars, which equals 3.7% of N.J. state's tourism tax.
This event, presented by EDMO, is exclusively for service industry staff and friends, by invitation only. It will run from 6:30-10:30 p.m. at Veterans Memorial Park. The event site will be completely transformed, with an elegant ambiance under the stars and iconic American flags at the Elizabeth waterfront. A revised city tourism mobile app and new historical tourist video will be debuted that evening. The event is expected to attract as many as 400 hotel/service industry personnel—including multiple city-, county- and state-elected officials.
EDMO works to provide hotel guests with a memorable local experience during their stay in Elizabeth, N.J. while working to drive new group tour business to the area. The new tourism initiative integrates area hotel staff and guests with Elizabeth experiences: historical sites, cafes, restaurants and nightlife venues. By giving the hospitality service industry staff an opportunity to experience some of the wonders of Elizabeth, they will be better able to refer and encourage hotel guests to experience these special options.
The city's new tourism bureau, EDMO, attracts visitors to Elizabeth franchised hotels by promoting all the rich American Revolutionary history, diverse cultural cuisine, trending nightlife and high-end outlet shopping the city has to offer. (Find out more at http://www.goelizabethnj.com).
"EDMO shows tourists and the hospitality industry all the things that make Elizabeth a memorable place to visit," said Jennifer Costa, the organization's director. "This showcase is an opportunity to present a taste not only of our diverse restaurant offerings, but it also brings together in one location each sector that makes Elizabeth so special and culturally unique."
Under the leadership of the Elizabeth Destination Marketing Organization, multiple entities from the history, hospitality, retail and restaurant sectors are working together to promote the new tourism sector of Elizabeth. As this effort attracts new visitors, it aids in the economic development of the city of Elizabeth. Across Elizabeth, N.J., travel employs a prosperous and diverse workforce from airline and hotel employees to restaurant, attraction and retail works and supports related sectors such as construction, manufacturing and finance.
"We are celebrating what travel means to Elizabeth," Costa said. "The travel and hospitality industry brings jobs and economic development. More tourism means more growth and greater prosperity for all of Elizabeth."
For more information or to write about the event, please immediately contact the Elizabeth Destination Marketing Organization, 456 North Broad Street, Elizabeth, N.J. 07208, at info(at)goelizabethnj(dot)com or (908) 355-9797.
WHAT: Elizabeth, N.J. Travel Rally Day | City of Elizabeth Showcase
WHEN: Wednesday, May 25, 2016
WHERE: Veterans Memorial Park, (Front Street & Elizabeth Avenue) at the Elizabeth Waterfront