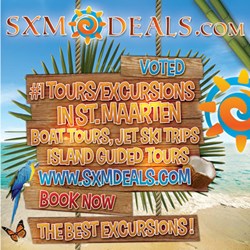 SXM Deals is the #1 choice for many St. Maarten visitors because we offer exciting tours for everyone.
Philipsburg, St. Maarten (PRWEB) November 13, 2013
SXM Deals, the leading operator for excursions and tours in St. Maarten, now offers +42 tours on the island. Cruise ships and flights start to arrive more often in St. Maarten as the tourism/high season takes off in November 2013.
According to an article recently released by Universal Weather and Aviation, Inc., Jessica Hosmer states that St. Maarten becomes "one of the busiest and most congested" destinations from mid-December to mid-April.
In light of the increased travel to St. Maarten, this season promises to be busier than first time island-goers, residents, and avid travellers have seen in the recent past. Princess Juliana International Airport has seen an increase in total flights booked in the first half of 2013 already, and CEO and owner of SXM Deals, Michael Rouveure, expects the next six to eight months will be no different.
"SXM Deals is the #1 choice for many island visitors because we offer exciting tours for everyone. High speed jet ski tours for the younger crowd, romantic dinner cruises down the Dutch coast of the island for newlyweds and couples, sail and snorkel catamaran trips to beautiful secluded islands for families and a good old catamaran pub crawl for party goers".
A new and very exciting tour is the Rock n Roll excursion where you captain your own boat to sightsee the coastline and snorkel on the French side of St Martin. For folks that would prefer a very adventurous yet more relaxing powerboat snorkel trip, there is the Coconut Reef Snorkel Tour where you find deserted beaches and see the best coral reefs and snorkeling that St Maarten has to offer.
SXM Deals also offers a very different yet fun and more land based tour that involves segways. The Segway Island Tour takes place on the boardwalk in Philipsburg. Participants drive their own segway after a training session and visit St. Maarten's shops and interesting hot spots with a guide. After cruising around on a segway, guests have a choice of continuing their trip around the island on a bus with a guide or to enjoy a delicious lunch at one of Philipsburg's restaurants.
The famous cruise company, Carnival, has added a recent satisfaction guarantee to all cruises to enhance the passenger experience, and which will also likely increase cruise bookings to St. Maarten this season. However, experienced Caribbean travellers and veterans in the tourism industry know that the real challenge starts after the flights land and the cruise ships dock.
To date, SXM Deals has helped over 3,000 members decipher which are the best boat tours and activities in St. Maarten.
With the SXM Deals booking service, visitors are guaranteed high quality St. Maarten excursions based on guest reviews and excellence of service. More importantly, visitors can research all the newest tours before arrival and book in advance to secure with peace of mind the ideal experience by avoiding last minute fully booked tours.
About SXM Deals:
St. Maarten is a busy and vibrant island with dozens of wonderful excursions to enjoy. The island welcomes millions of tourists every year. CEO and founder Michael Rouveure recognized the flourishing tourism industry but wanted to make it easier for guests to enjoy a true island experience. Michael founded SXM Deals in 2012 and has not stopped forging ahead to make travelling to the island and booking tours more convenient for travel agents and travel enthusiasts alike. To find out more about all the tours in St. Maarten or how to book group tours, go to SXMdeals.com. Live the St. Maarten experience.