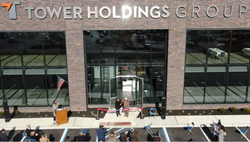 MONTGOMERY, N.Y. (PRWEB) November 19, 2020
Tower Holdings Group, a leading, integrated developer, construction manager, specialist façade contractor, and materials supplier, celebrated its new logistics center with local officials at a ribbon-cutting event.
Located at 84 Hawkins Drive in Montgomery, New York, Stewart Logistics Center is a warehouse and office building comprised of 81,200 square feet on 7.4 acres. The first floor offers 7,237 square feet of office space and 71,643 square feet of warehouse space, while the second floor hosts 9,880 square feet of office space, equipped with a state-of-the-art conference room and showroom.
"We're so grateful for the support from the Montgomery community for allowing us the opportunity to build our first collaboration with the town," said Kevin O'Sullivan, CEO, and President, Tower Holdings Group. "This project is a point of pride for all of us. The collaboration and perseverance from our different business units, Time Square Construction, Aluprof USA, and Alubuild USA along with our subcontractor partners kept the project moving forward despite the challenges associated with the pandemic. I couldn't be prouder of the entire team" he added.
The new facility was developed by Stewart Holdings Group and constructed by Time Square Construction, glass was supplied by Aluprof USA and installed by Alubuild USA, all four being Tower Holdings Group's entities. The Interior Design Architect is Anderson Design Group.
"The Town of Montgomery is proud to welcome such an outstanding business to our community. We look forward to working with Tower Holdings Group as we continue to improve the quality of life for those who work, live, and visit our beautiful and historic town." said Brian Maher, Township of Montgomery Town Supervisor.
The support of the local community was crucial for the successful completion of this development. Tower Holdings Group worked in synergy with local government and agencies to bring about the facility, hired local businesses and labor to complete the construction, and committed to creating long term high paying jobs during operations.
The Orange County Partnership facilitated a grant process with the Town of Montgomery Industrial Development Agency (IDA), Empire State Development (ESD), and Central Hudson Gas and Electric, to generate local business and community development. "Tower Holdings is exactly the caliber of quality business that we are proud to welcome into our community. It's a privilege to work with their team of professionals as they grow their company adding dozens of jobs and providing an opportunity for our Orange County residents." said Maureen Halahan, President and CEO, Orange County Partnership.
The Town of Montgomery Industrial Development Agency assisted through its PILOT agreement program. "We're excited to see the Stewart Holdings Group project move forward. What makes Stewart Holdings stand out is the extra effort they put into the façade of the building, ensuring it's an aesthetically pleasing addition to the community," said Jeffrey D. Crist, Chairperson of the Town of Montgomery Industrial Development Agency. "In a time where the economy is uncertain, this project is a strong signal that the Town of Montgomery is open for business," added Conor Eckert, Executive Director of the Industrial Development Agency.
Central Hudson Gas & Electric Corp. provided a Jobs Creation grant through the utility's Economic Development program offerings. "We congratulate Tower Holdings Group on their Grand Opening of Stewart Logistics Center and creating employment opportunities and new jobs for our region," said Anthony Campagiorni, Vice President of Customer Services and Gas Operations. "The current economic crisis caused by the COVID-19 pandemic has resulted in significant impacts to employment and local industries, so it is important to support projects such as this that create well-paying, permanent jobs that help sustain our economy."
"Orange County is proud to welcome Tower Holdings Group and we are excited that this transformative project has been completed. I know that Tower Holdings Group will thrive here and be a wonderful community partner. This is a great day for our County and I'm proud to be a part of the team that helped bring them to Montgomery." said Orange County Executive Steven M. Neuhaus.
Moreover, the project received a grant for the construction of the facility from Empire State Development (ESD). "Empire State Development is proud to have supported the construction of this first-class facility. The Stewart Logistics Center is a welcome addition to the Mid-Hudson Region that will attract high-paying jobs, further our strengths in manufacturing and distribution, and continue to build our economy back better." said Empire State Development Acting Commissioner and President & CEO-designate Eric Gertler.
At the celebration, where there was a limited number of attendees due to COVID-19 restrictions, the guests toured the new facility and learned about the property specifications implementing all social distancing and required safety measures. For more information about Stewart Logistics Center, visit https://stewartlogisticscenter.com/
About Tower Holdings Group
Operating in the United States, Ireland and the United Arab Emirates, Tower Holdings Group is a leading, integrated developer, construction manager, specialist façade contractor, electrical contractor, and high-quality materials supplier, consisting of eleven independent entities. The Group's companies include Time Square Development Group LLC, Time Square Construction Inc., Time Square Construction Operations Ltd, Tower Holdings Ireland Ltd, HDK Construction LLC, Al Abbar North America LLC, Alubuild USA LLC, Alubuild Ireland Ltd, Alubuild Gulf DMCC, Trinity Engineering Ltd, and Aluprof USA LLC. https://towerholdingsgroup.com/