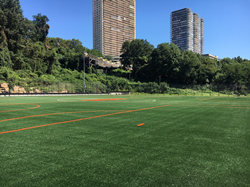 "The new turf fields are something our residents will be proud of, as well as suit their athletic needs"
WEST NEW YORK, N.J. (PRWEB) September 04, 2020
The Town of West New York, situated upon the New Jersey Palisades, is in the process of making a major upgrade to three of the city's well-known sports fields with the installation of premium-grade synthetic turf. The three fields include Centennial Field, Miller Stadium and Patricia McEldowney Field.
"We decided to move away from natural grass because our fields were in disrepair and we wanted to make a solid investment in something that would hold up nicely over the years," said Mayor Gabriel Rodriguez. "The new turf fields are something our residents will be proud of, as well as suit their athletic needs," the Mayor continued.
The Town of West New York will be installing a total of 210,000 square feet of synthetic turf across the three locations. Each field will be using a different Shaw Sports Turf product.
Centennial Field, used mainly for soccer, will feature Shaw Sports Turf's Legion NXT. This is a hybrid system that offers realistic aesthetics with an electrifying degree of durability. This system features Shaw's patented Thunderbolt fiber and is built for strength, built for pushing the envelope and providing endurance through even the toughest of match-ups.
The field at Miller Stadium, named Anthony R. Ferrainolo Field after New Jersey's winningest high school baseball coach, will be using Shaw Sports Spike Zone Pro. Using a combination of fibers, Spike Zone synthetic turf systems by Shaw Sports Turf are designed with that same confidence in mind. The tall fibers support the requirements for the ball and athlete to perform well, while the thatch layer adds another level of consistency for each step. This historic stadium is best known for once hosting baseball greats Babe Ruth and Lou Gehrig.
Patricia McEldowney Field, used for both softball and mini soccer, will feature Shaw Sports Turf's Legion. This system not only looks like natural grass and allows for better ball roll, but it also has added durability and infill control. It features our two-ends-per-needle manufacturing process, which results in the most uniform field with no streaks and a predictable playing surface.
"This installation is going to take our athletic programs and the vision of Mayor Gabriel Rodriguez to the next level. Starting our children in various sports and refocusing on developing world class athletic programs reduces the socioeconomic impact and other factors that affect our community. This reclaims our kids and refocuses them on what they need to focus on, their mind, body and spirit," said Town Administrator Jonathan Castaneda
Installation of the synthetic turf systems are set to be completed at Centennial Field by mid-September 2020, Miller Stadium by mid-October and Patricia McEldowney Field by early spring 2021.
"Shaw Sports Turf is very proud to have been selected to provide the synthetic turf surfaces for this long-awaited West New York revitalization of Centennial Field, Miller Stadium and McEldowney Park. We applaud and congratulate Mayor Rodriquez, the Board of Commissioners and the design team from Remington Vernick Engineering," said Territory Manager, Lee Defreitas.
ABOUT SHAW SPORTS TURF
A wholly-owned subsidiary of Berkshire Hathaway Inc., Shaw Industries is a full flooring provider to the residential and commercial markets. Shaw supplies carpet, hardwood, laminate, resilient, and tile/ stone flooring products, as well as synthetic turf. Shaw Sports Turf is one of the leading synthetic turf companies in North America and has represented quality and innovation for more than two decades with over 3,500 successful installations, including an impressive list of high-profile field installations. For more information please visit http://www.shawsportsturf.com, call 866-703-4004 or find us on Facebook, Twitter, LinkedIn and Instagram.