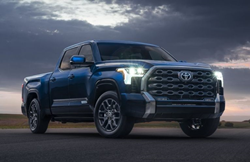 LANCASTER, Calif. (PRWEB) May 19, 2022
Toyota fans will be overjoyed to learn that Toyota of Lancaster in Lancaster, California, has welcomed the 2022 Toyota Tundra to its showroom. The Toyota Tundra has a long-standing reputation as one of the most capable full-size trucks in the market, with a long list of standard equipment. Interested buyers may visit the dealership's official website to learn more about this incredible truck and to view their inventory.
Toyota has given the Tundra a much-needed design refresh for the 2022 model year, which is likely to boost the truck's sales. The fact that the 2022 Tundra is the only full-size pickup truck on the market without a V-8 engine is one of its most remarkable features. However, the truck's twin-turbo V-6 engine comes in three power levels and aids in the truck's outstanding performance. A revamped rear suspension, improved interior design, and a redesigned frame are among the other highlights of the 2022 Toyota Tundra.
Additionally, the 2022 Tundra can tow up to 12,000 pounds, which isn't quite class-leading but should suit most truck owners' towing demands. A reinforced composite bed is included as standard, adding to the truck's overall strength and capability.
Interested people in and around Lancaster, California, may call the Toyota of Lancaster store at (855) 660-7659 or schedule a test drive with the dealership. Customers interested in learning more about the features of the 2022 Toyota Tundra may visit the dealership website at https://www.toyotaoflancaster.com or stop by the dealership at 43301 12th St. W, Lancaster, California 93534.