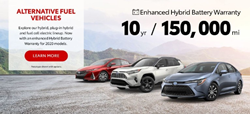 LANCASTER, Calif. (PRWEB) March 19, 2020
The Toyota brand has been on the frontlines of developing alternative fuel vehicles for decades, most notably with the Prius hybrid model first produced in the late 1990s. Since then, the Toyota company has expanded the Prius nameplate to multiple model variations, offered hybrid versions of all of their sedan models (Corolla, Camry and Avalon) and many of their SUV models (RAV4 and Highlander), are now set to release their first PHEV model with the Toyota RAV4 Prime later this year and are one of the only vehicle companies to offer a fuel cell electric vehicle with the Toyota Mirai.
The Toyota of Lancaster dealership offers a variety of Toyota alternative fuel vehicles to drivers in Los Angeles County. Hybrid and electric vehicles in the Toyota of Lancaster inventory include the 2020 Toyota Corolla Hybrid compact sedan, the 2020 Toyota Camry Hybrid midsize sedan, the 2020 Toyota Avalon Hybrid full-size sedan, the 2020 Toyota RAV4 Hybrid compact SUV, the 2020 Toyota Highlander Hybrid midsize SUV, the 2020 Toyota Prius liftback and the 2020 Toyota Prius Prime liftback.
Every new Toyota alternative fuel vehicle at Toyota of Lancaster comes with an Enhanced Hybrid Battery Warranty. This warranty covers 10 years or 150,000 miles (whichever is met first). Additional information on hybrid and electric vehicle warranties can be found by browsing through the Toyota of Lancaster alternative fuel vehicle inventory.
To learn more about Toyota alternative fuel hybrid, plug-in and fuel cell electric vehicles, drivers in the Los Angeles area, drivers are encouraged to schedule a test drive with an alternative fuel model in stock and to contact the Toyota of Lancaster dealership. The Toyota of Lancaster team can be reached through online messaging on the dealership website, visits to the store, and by phone at the number of 661-948-0731. The Toyota of Lancaster dealership is located at 43301 12th St. W, Lancaster, California 93534.