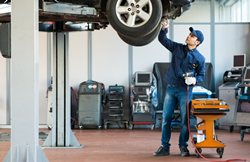 LANCASTER, Calif. (PRWEB) January 24, 2020
At select Toyota-affiliated dealership locations with an on-site service center, customers can enjoy Toyota Express Maintenance services. For drivers in the Antelope Valley area of Los Angeles County, a nearby and convenient location that offers Toyota Express Maintenance is that of the Toyota of Lancaster dealership in Lancaster, California.
Toyota service centers provide factory-schedule maintenance for automotive service and minor repairs on Toyota and Scion vehicle models. Toyota Express Maintenance is a program and commitment made by the company, through the hard work of all Toyota affiliate employees, to get customer's vehicles serviced as fast as possible without sacrificing quality care. In addition to the reason for the visit to a Toyota service center, Toyota Express Maintenance includes a list of five complimentary services.
The first service is 'Oil & Filter,' where technicians drain and refill the model with factory-recommended oil. The second service is 'Multi-Point Inspection,' where technicians perform a visual check on all major systems. The third service is 'Brake Inspection,' where technicians ensure brake pad thickness is safe and operating correctly. The fourth service is 'Fluid Inspection,' where technicians check all of a vehicle's fluids (coolant, brake, power steering, windshield wiper, transmission) and refill them at no extra charge. The fitth and last additional service is 'Tire Rotation,' where technicians rotate a vehicle's tires to prolong tire life, ensure even wear and tear and reset the Tire Pressure Monitoring System (TPMS).
For more automotive service, part and accessory information and assistance, drivers in Los Angeles County can consult the Toyota of Lancaster service department. The Toyota of Lancaster staff can be reached at the number 661-948-0731. Additional means of communication with a dealership representative include online messaging and visits to the store. The Toyota of Lancaster dealership is located at 43301 12th St. W, Lancaster, California 93534.