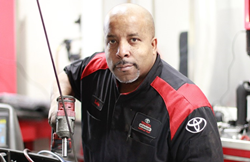 PUYALLUP, Wash. (PRWEB) November 30, 2020
While Toyota of Puyallup is known or offering its exclusive Customer First Lifetime Warranty, the dealership also provides additional coverage. For all eligible used Toyota models and other pre-owned inventory, the Pre-Paid Maintenance Plan and Customer Confidence Warranty both provide protection upon purchase. Customers in the Puyallup area can take advantage of either offering when on the hunt for their latest vehicle at Toyota of Puyallup.
With the purchase of any used Toyota from Toyota of Puyallup, the vehicle will have a Pre-Paid Maintenance Plan attached. The offer provides a Toyota Auto Care Classic vehicle maintenance plan for up to one year or 15,000 miles, whichever comes first. Included with the package are up to three oil changes, a multi-point inspection and 24-hour roadside assistance among other features.
On top of the maintenance plan, the dealership is providing an exclusive Customer Confidence Warranty. The warranty lasts for up to three months or 3,000 miles and is attached to all pre-owned vehicles that do not have a manufacturer warranty already attached. On top of the protection, vehicles will receive a complimentary oil change and use of a complimentary loaner vehicle for select services.
For more information on Toyota of Puyallup Pre-Paid Maintenance Plan and Customer Confidence Warranty, customers are invited to contact the dealership directly. An associate can be reached by phone at 253-286-6000. Those interested in a used vehicle can also search the dealership's inventory online at https://toyotaofpuyallup.com/ or at their location, found at 1400 River Road in Puyallup.