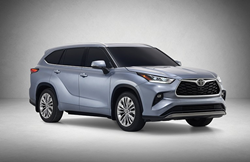 PUYALLUP, Wash. (PRWEB) May 08, 2020
With Phase 1 of Washington State Governor Inslee's plan to reopen the state economy underway, Toyota of Puyallup has opened its sales floor. During the shutdown, only emergency vehicle purchasing and service center functions were available. With the re-opening of the sales floor, the dealership can sell vehicles, take steps to ensure a safe and clean atmosphere and update their sales floor hours.
In order to maintain a safe and clean atmosphere, Toyota of Puyallup has taken additional steps to its procedures. Social distancing of at least six feet will be ensured between all parties. In any customer interactions, face masks and gloves will be required. For vehicles, each one will be sanitized after each use with extra attention given to steering wheels, controls and door handles. For a complete list of actions taken, visit their updated statement on their website.
Due to the re-opening of the sales floor, the Toyota of Puyallup's hours have been changed. The dealership's sales floor is open from 8:00 a.m. to 8:00 p.m. (PST) on Mondays through Fridays. During the weekend, customers may come in from 8:30 a.m. to 8:00 a.m. on Saturdays and from 10:00 a.m. to 7:00 p.m. on Sundays.
To utilize any services by the sales floor or service department, simply contact Toyota of Puyallup in the Puyallup, WA area. The dealership is located at 1400 River Road in Puyallup. For any additional questions or inquiries, they may be reached by phone at (253) 286-6000 or online at https://www.toyotaofpuyallup.com/.