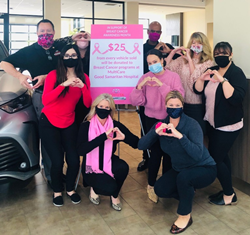 PUYALLUP, Wash. (PRWEB) October 26, 2020
Toyota of Puyallup prides itself in being active in supporting the local community each year through various special events or offers of support. This includes working with local and national groups to improve the livelihoods of others. For example, the dealership is currently donating to breast cancer programs during the month of October.
Customers interested in purchasing a new or used vehicle in the Puyallup area can support breast cancer programs through Toyota of Puyallup. The dealership is currently donating $25 for every new and vehicle sold at their location during the month. The donations will go directly to programs at MultiCare Good Samaritan Hospital. Inventory at the dealership includes well over 400 vehicles, 300 of which are new Toyota models. Donations for each vehicle sold continue until the end of October 2020.
Each year, Toyota of Puyallup works with many different organizations to give back to the community. For youth programs, the dealership has worked with groups such as Toys for Tots, St. Jude Children's Research Hospital as well as the YMCA of Tacoma Pierce County. It has also been a strong proponent for military support, aiding groups in the past such as the Army Community Services as well as the Fisher House. For a more complete list of groups they have supported in the past, a page can be found on their website.
To find a new or used vehicle, customers are welcomed to contact an associate at Toyota of Puyallup. For in-person viewing, those interested can find the dealership at 1400 River Road in Puyallup, WA. Otherwise, the dealership can be contacted via phone at 253-286-6000 or online at https://www.toyotaofpuyallup.com/.