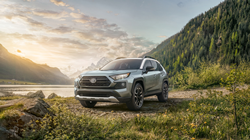 SANTA MARIA, Calif. (PRWEB) May 27, 2021
The Toyota dealership in Santa Maria, Calif. is offering concierge services for the driver's safety. Due to the ongoing pandemic, the dealership is offering sales, maintenance and repair services at the driver's doorstep.
Drivers who are looking to buy a new Toyota vehicle can get in touch with the dealership for dealer-to-door services. In this service, a Toyota of Santa Maria sales team member will bring in a sanitized vehicle to the customer's home for a test drive. If the prospective buyer is interested in purchasing/leasing the vehicle, the Dealer will carry out a paperless transaction. For financing/leasing a new vehicle, Toyota of Santa Maria also provides various special offers that are refreshed every month.
Drivers who already own a Toyota vehicle can also take advantage of this service. Toyota of Santa Maria is offering repair and maintenance services every Monday through Friday for Santa Maria and Orcutt residents only. A member of the dealership staff will pick up the vehicle from the driver's door and bring it to the dealership. After completing the service, the dealership will return the vehicle repaired and sanitized at the customer's doorstep. Toyota of Santa Maria is charging $9.95 for pick-up and $15.95 for drop-off and pick-up of service vehicles. Drivers who are interested in repairs and maintenance services can view the service discounts and rebates offered by Toyota of Santa Maria, on the dealership's website.
Drivers who are interested in the concierge services can contact the dealership by dialing 805-928-3881 or mailing at sales@toyotasm.com. Drivers can also view business hours and location information for Toyota of Santa Maria on the dealership's website.