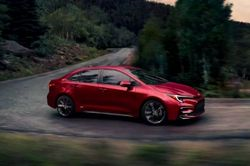 ORANGE, Texas (PRWEB) January 23, 2023
Toyota sedans are famous for their sleek, slender and stylish exterior build. The brand has a popular sedan lineup. The Toyota Corolla is one of the sedans that are always in demand. Its newest version, the 2023 Toyota Corolla LE, is now available at the Cecil Atkission Toyota dealership. Drivers who love fast, stylish, powerful sedans should check out this car.
Interested buyers can explore the 2023 Toyota Corolla LE via the dealership's website and learn about the car's technical specifications. People close to the dealership can visit and test drive the sedan. This enables them to observe the vehicle in close quarters and understand how it performs in real time. They can also test out the numerous new features and upgrades added to the 2023 Corolla LE. The car comes with a 1.8L Hybrid VVT-i engine that delivers high-end power and performance. It dons a superior exterior build that attracts attention when on the road.
Buyers can access the ceciltoyota.com website to learn about the Toyota vehicle offers, deals and car services available at the Cecil Atkission Toyota dealership. For detailed information on the elegant 2023 Toyota Corolla LE, they are encouraged to meet the dealership team at Cecil Atkission Toyota, 2500 IH-10 West, Orange, TX 77632 or contact them by phone at 833-378-1225.