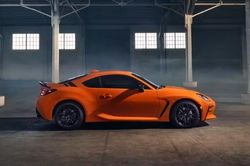 BLOOMINGTON, Ind. (PRWEB) February 06, 2023
Drivers who love stylish sedans that offer thrilling rides on the road have great news coming their way. The latest version of the popular Toyota GR86 sedan is now available for purchase. Buyers near Bloomington can now buy this stunning 2023 Toyota GR86 at the Royal South Toyota dealership. The 228-hp sedan is perfect for drivers who cherish stylish, agile and sporty sedans.
Interested buyers can visit the dealership directly to check out the 2023 Toyota GR86 if they reside close to it. They can test drive the sedan and experience it on the road. Test drives allow drivers to explore the multiple features and upgrades added to the sedan. Others who are not close to the dealership can browse the website and learn more about the car's technical specs and other details. Buyers are requested to contact the dealership to know the vehicle's actual price.
Customers are encouraged to visit the royalsouthtoyota.com website to learn about the vehicle services and new Toyota models available at the Royal South Toyota dealership. For more details on the stylish 2023 Toyota GR86 sporty sedan, they can visit the dealership at 3115 South Walnut St, Bloomington, IN 47401 or contact them by phone at 570-487-3095.