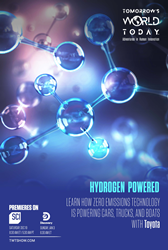 "This episode really gives viewers an inside look at Toyota's unique fuel cell technology, Whether it's providing emissions-free power for a car like the new Mirai, or helping to eliminate pollution from heavy-duty trucks, hydrogen fuel cells can be a real difference-maker for the environment."
PITTSBURGH (PRWEB) December 16, 2020
This week, Toyota unveiled its second-generation 2021 Mirai, a premium sedan with cutting-edge design, technology, and driving performance that uses a fuel cell electric powertrain. It's the car of the future--which makes sense because Mirai literally translates to "Future."
This weekend on Tomorrow's World Today, field reporter Tamara Krinsky heads to Los Angeles to test drive the 2020 Mirai and learn more about Toyota's newest addition as well as their development of zero-emission big rigs and how they've designed a maritime-specific fuel cell for a boat, aptly named the Energy Observer.
"This episode really gives viewers an inside look at Toyota's unique fuel cell technology," said Craig Scott, Group Manager, Electrified Vehicles and Technology, Toyota Motor North America. "Whether it's providing emissions-free power for a car like the new Mirai, or helping to eliminate pollution from heavy-duty trucks, hydrogen fuel cells can be a real difference-maker for the environment."
Tomorrow's World Today will learn about Toyota's zero-emission big rigs that use six hydrogen tanks and can haul up to 80,000 pounds. Krinsky then checks in with the Energy Observer, a boat that uses solar power, wind energy, and Hydrogen Fuel Cell technology developed by Toyota to navigate the waters.
To learn more about how Toyota is changing the future of transportation, tune in for a brand new episode of Tomorrow's World Today on Saturday, December 19 at 8:30 am ET/PT on Science Channel and Sunday, January 3 at 6:30 am on Discovery.
About Tomorrow's World Today
Season three of this family-friendly, cutting-edge television show travels the world in search of innovative pioneers who are creating new ways to utilize our natural and technological resources for a more sustainable lifestyle. Tomorrow's World Today has a home base in Pittsburgh, PA, one of the nation's most progressive tech landscapes, home to Duolingo, the most downloaded educational app in the world, and UBER's flagship location for autonomous transportation. http://www.twtshow.com
About TMNA R&D
Toyota Motor North America Research & Development (TMNA R&D) aims to redefine next-generation vehicles to more than simply a form of transportation. Since 2003, Toyota has been awarded more patents than any other automaker, including autonomous vehicle patents (more than 1,400). Centered in Ann Arbor, Michigan, Toyota TMNA R&D puts the brightest thinkers from across the globe together to focus on letting people live more safely and comfortably. Globally, Toyota spends approximately $1 million per hour on R&D to ensure that Toyota rapidly and continuously develops cutting-edge, high-quality, and appealing vehicles. http://www.toyota.com