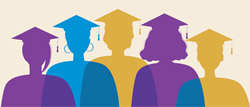 "We have to reform graduate education across borders," Yachnin says, "so that we can meet the global challenges we face now. By telling the stories of humanities PhD grads who traveled many different career paths, we can enable future scholars to mobilize their learning and skills for greater good."
WASHINGTON (PRWEB) November 30, 2022
ReImagine Science, a non-profit focused on transforming the way science is done, is proud to be a partner in McGill University's TRaCE Transborder project, which brings together universities and organizations on 5 continents to transform the problem of humanities PhD underemployment into a global opportunity. This ambitious project, funded by the Social Sciences and Humanities Research Council of Canada (SSHRC) and the partner universities, will fashion narrative knowledge about PhD career pathways into an instrument for individual path-building to fulfilling careers, international bridge-building, and institutional and social change.
"The knowledge created by the work of PhD students forwards the wealth of human discovery and understanding in profound ways", says Kennan Salinero, ReImagine Science Executive Director. "The TRaCE Transborder project promises to build a new approach for giving back to those individuals whose love of learning contributes so much. By helping build new narratives, we embolden PhD recipients to re-discover their own worth, creating a new story for building a society that leverages its highest learning for the good of all."
McGill University's Paul Yachnin, Tomlinson Professor of Shakespeare Studies and Director of TRaCE Transborder, started the highly innovative series of TRaCE projects in 2015. His team has collected data from approximately 9,000 PhD graduates across Canada, developing expertise in the process and the potent impact on both interviewer and interviewee. This new phase expands the scope of previous projects by interviewing PhD graduates and students from partner universities in Africa, India, USA, England, the Netherlands, China and Australia as well as in Canada, to learn how university cultures around the world approach the PhD and how graduate education might evolve. The TRaCE research emphasizes the opportunity to reimagine the PhD and to better prepare graduates to use knowledge and skills gained from their degree in and beyond the academy.
"We have to reform graduate education across borders," Yachnin, founder and Director of the TRaCE Transborder Project, says, "so that we can meet the global challenges we face now. By telling the stories of humanities PhD grads who have traveled forward onto many different career paths, we can enable scholars who are coming up now to mobilize their learning and skills for the good of people of all kinds."
For more information on the TRaCE Transborder project, people are invited to visit the web page: https://www.mcgill.ca/trace/
PhD graduates or PhD students who are interested in connecting with their peers are encouraged to join TRaCE Connect, to discuss the present and future of doctoral education (https://bit.ly/TRaCEConnect_signup).
About ReImagine Science https://www.reimaginescience.org
ReImagine Science is a 501(c)3 organization founded in 2008 to fundamentally change the way we 'do' science in the United States. It was created on the belief that transformative change in the sciences will better serve humanity, the planet, and science itself.
Media Contact: Kennan Salinero, ReImagine Science Executive Director and member of the TRaCE Transborder Management Committee
Phone: +01 925 584 8788
Email: kennan@reimaginescience.org