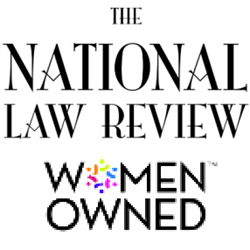 Goldvarg joins the National Law Review at a pivotal time due our exponential growth in traffic.
CHICAGO (PRWEB) September 15, 2020
The National Law Review (NLR), one of the highest volume business law news services in the United States, announced that Tracey Goldvarg joined the company as Business Development Director. Goldvarg brings extensive legal business development and B to B publishing experience from her previous leadership roles at American Lawyer Media (ALM), Today's General Counsel, and Inside Counsel. Goldvarg's wealth of knowledge and legal industry know-how will enhance the National Law Review's initiatives involving various advertising, promotional and other new product offerings.
The National Law Review is a leading source of information for companies and individuals looking for guidance on compliance and regulatory matters. The NLR's COVID-19 pandemic coverage garnered over 4.3 million readers in both March and April of this year, and the NLR's pandemic coverage continues following Congressional and Executive directives and local Coronavirus mandates.
Goldvarg joins the National Law Review at an exciting time, when the company is poised for exponential growth as traffic levels to the National Law Review have tripled in the last year.
Jennifer Schaller, Managing Director of the National Law Review:
"We are excited to welcome Tracey to our team. Her depth of experience in the publishing and in the legal and financial services fields is invaluable as we continue to grow and develop new markets, expand coverage in new areas and amplify our product offerings to our clients and in new verticals. Tracey's upbeat attitude and exceptional commitment to client service is just what we need to keep our momentum going."
Goldvarg: "I am thrilled to be joining such a dynamic and nimble organization at such a pivotal time in its growth. I look forward to continuing our on-going collaboration and welcome the opportunity to join a women-owned organization, that values the insights and talents of its team-members and has such high standards of customer service to its clients. Their client retention numbers are unparalleled."
The NLR is a certified women-owned business enterprise that reports breaking legal news on emerging and on-going business issues ranging from business immigration to the regulatory and operational challenges of the Coronavirus pandemic.
The National Law Review's U.S based editorial team publishes around the clock and optimizes legal thought leadership for search engine visibility, and for distribution via news syndication partners. The NLR also promotes our published content through their extensive social media network, and to their over 135,000 daily newsletter subscribers.
About the National Law Review: The National Law Review is a daily legal news website with a mission to provide objective, reliable and practical litigation, legislative and administrative legal news and analysis through partnership with law firms, other legal and business organizations and our own staff journalists. The NLR's online platform was developed by corporate attorneys and is the online descendant of a legal publication tracing its roots back to 1888. With the talents of our own writers and contributing authors, the National Law Review has grown into one of the highest volume business law publications in the U.S., with an average of 2 million visitors each month. Visit us at http://www.NatLawReview.com.