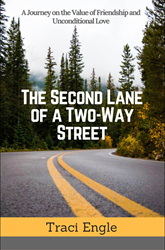 "Life is difficult at times and these lessons will hopefully help others going through tough times know that they are not alone and that there is hope," says Traci. "Life is tough…not just for those going through medical issues. Life is just tough in general."
DANVILLE, Calif. (PRWEB) October 23, 2018
– Traci Engle business entrepreneur, speaker, and author announced today her first book The Second Lane of a Two-Way Street. Traci worked hard to get what she felt was a perfect life – a home in an affluent community, a thriving business, and nice vacations. A routine doctor's visit turned this all around with a diagnosis of an aggressive form of breast cancer. Journey with Traci as she retells her victorious battle with cancer and reveals the 7 priceless life lessons she learned along the way.
"Life is difficult at times and these lessons will hopefully help others going through tough times know that they are not alone and that there is hope," says Traci. "Life is tough…not just for those going through medical issues. Life is just tough in general." Traci hopes her story gives optimism to those going through challenges, whether they be big or small, in their everyday life.
Traci Engle is proud to launch her first book by being a keynote speaker at the "Savvy Women Fall Social" on October 24th, 2018 4:30—7:30 PM at the Blackhawk Country Club. Come and take part in Traci's year of celebration. "I am declaring 2018 my year of adventure. It's time to get out and live life to the fullest," shares Traci. Listen, laugh and learn how one independent woman recovered from one of life's biggest curve balls pledging that life was not to be taken for granted. Traci will also be revealing an extra eighth lesson not included in the book.
"What I love about Traci Engle and her book The Second Lane of a Two-Way Street is her completely open and in-depth description of her journey, both personal and medical," said Marilyn Suey, founder of Diamond Group Wealth Advisors and Savvy Women: Building a Brighter Future for All Women™. "She teaches us to live in the moment and to make sure that we take good care of us first, our family, and friends that provide us our deepest support. Her message to decide to PLAY, LAUGH AND LOVE more is one I will keep in my heart."
Journey with Traci as she reveals her victorious battle with cancer, and the 7 priceless life
lessons she learned along the way. You can find Traci's book The Second Lane of a Two-Way Street on Amazon at https://www.amazon.com/Second-Lane-Two-Way-Street-Unconditional/dp/1732108609/ref=sr_1_1?ie=UTF8&qid=1538895586&sr=8-1&keywords=traci+engle
To RSVP to the Savvy Women Fall Social Summit where Traci will be speaking on October 24, please contact Kelley Sastokas at 925-219-0080 or kelley.sastokas@diamondgroupwealthadvisors.com
About Traci Engle
Traci Engle is an author, entrepreneur and speaker. She is the founder and principal of TEngle Consulting Group, Inc., a company she built from the ground up providing consulting and business services to Fortune 500 companies. Traci has a Bachelor of Science - Accounting degree from the University of Akron, Ohio and has co-authored two patents related to systematically calculating data quality. She lives in Danville, California. Her spare time is spent with family and friends on and off the tennis court, playing bocce ball, volunteering at the Rotary Club or hanging out with her cat Bordeaux. Traci's book The Second Lane of a Two-Way Street is available on Amazon and Kindle download. For more information visit http://www.traciengle.com, http://www.tengleconsultinggroup.com or follow us on Facebook at https://www.facebook.com/Traci-Engle-615035888912414/
About Marilyn Suey
Marilyn Suey is a nationally recognized financial educator, author, speaker and wealth manager. She has a deep passion for supporting her clients who are business owners, entrepreneurs and health care professionals to build their businesses, as well as to design their Personal Prosperity Blueprint™ that can help guide them on the road toward financial independence. For more information visit http://www.diamondgroupwealthadvisors.com and http://www.marilynsuey.com or follow us on Facebook at https://www.facebook.com/The-Diamond-Group-Wealth-Advisors-1921023328178564/and find us on LinkedIn at https://www.linkedin.com/in/marilyn-suey-933134
Marilyn Suey is a registered representative with, and securities offered through LPL Financial, Member FINRA/SIPC. Investment advice offered through Strategic Wealth Advisors Group, LLC, and a registered investment advisor. Strategic Wealth Advisors Group, LLC and The Diamond Group Wealth Advisors are separate entities from LPL Financial. CA Insurance License #0E01981