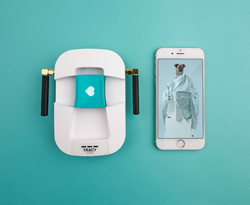 I got to work thinking of a way to not only keep an eye on our beloved pets 24/7, but to know what they need to keep them healthy and happy.
Stockholm, Sweden (PRWEB) May 24, 2016
Tracy is a dog tracker that can do more than simply locate a dog's position. Tracy uses Artificial Intelligence to monitor a dog's health trends and statistics, learn about their needs and more. Currently, Tracy is live on Indiegogo and is accepting pre-orders for days.
By using A.I. technology, Tracy is able to relay information to dog owners that was never possible before. The A.I. technology helps Tracy learn about the dog's personality and the dog's needs, wants and more. Tracy is engineered to get smarter as time goes on to learn when the dog is feeling ill, wants to go on a walk, is hungry or wants to play. With the free Tracy app for iOS and Android phones, owners get alerted every time their dog needs them.
"I'm a young entrepreneur who started out as an artist and recently found a passion for business and tech development," said Tracy Trackers' 24-year-old CEO, Artan Mansouri. "When my girlfriend's dog Tracy ran away one cold Swedish winter, I knew I had to do something to prevent this from happening to other households. So, I got to work thinking of a way to not only keep an eye on our beloved pets 24/7, but to know what they need to keep them healthy and happy."
One in three pets get lost in their lifetime. Tracy is hoping to lower this number with the interactive tracking map. Within the Tracy app, dog owners can track down their canine if they were to get out. The app displays a real-time map that follows the dog as they move around the neighborhood, so owners know where their dog is headed and can easily find them.
Dog owners can also set safe zones for their pet within the app. When the dog wanders outside of this zone, or charters into territory they know they are not allowed, an alert will pop up informing the dog owner that they got out of the safe zone and where the dog's exact location is.
Tracy has been designed to be small and light enough for all dog breeds because it is the smallest long-range tracker ever made. Tracy is also the longest-lasting dog tracker ever made, keeping a charge up to six months and charging using the included base in three hours. A battery monitor within the app lets owners constantly monitor the battery life of their Tracy. Tracy is also waterproof to survive jumps in the pool, showers, beach trips and more.
Currently, Tracy Trackers is accepting pre-orders for the innovative dog tracker and health monitor. Early bird deals start at just $199 for one tracker and $395 for two. Interested dog owners can order their Tracy on Indiegogo at bit.ly/TracyIndie.
ABOUT ARTAN MANSOURI
Artan Mansouri started his career in his teens through his graffiti art and found his way into the Swedish Nobel Museum and Sweden's biggest department store for luxury fashion. Through his participation in the startup show "Idéfabriken", as well as nominations such as "Swedish Youth Entrepreneur" two years in a row, Artan won the hearts of the Swedish population and found his way into the tech world. At just 24 years old, Artan has created digital innovations for Google, Lexus and NASA and most recently started implementing his ideas for Tracy. To learn more about Tracy Trackers, please visit http://www.tracytrackers.com.