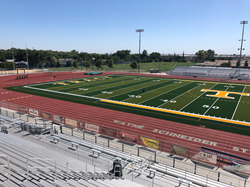 "The choice was easy, the material performance is a premier standard," said Jaime Quintana, Director of Facilities and Planning for Tracy Unified School District
TRACY, Calif. (PRWEB) August 05, 2020
Tracy Unified School District has made a major upgrade to Tracy High School with the recent installation of state-of-the-art synthetic turf at Wayne Schneider Stadium.
"The choice was easy, the material performance is a premier standard," said Jaime Quintana, Director of Facilities and Planning for Tracy Unified School District when asked about why Shaw Sport Turf Legion Pro 2.0 was chosen. "The hope is that it will invigorate the students and community, once sports are cleared to play in our community," said Quintana.
The school installed 76,906 square feet of Shaw Sport Turf's Legion Pro 2.0 synthetic turf. Legion is a combination of high-performance monofilament fibers and a durable slit film fiber. The slit film fiber is a workhorse which will handle the workload, while the monofilament provides a more resilient surface that enhances performance characteristics. Legion Pro uses Bolt, a premium lightning bolt shaped monofilament fiber. Legion Pro also features optimized face weight for performance and infill flyout control.
As a school district that prides itself on preparing students for the 21st century, Tracy Unified School District's decision to install the industry's top synthetic turf product puts them at the forefront of high school athletic programs. Shaw's commitment to their customers, as well as their vision to creating a better future for everyone made them the perfect match for this project.
"Shaw's team is an ideal and professional group that stands by their product and understands their clients' needs in terms of budget, time, and community goals," said Quintana.
Installation of the new synthetic turf at Wayne Schneider Stadium, named after the longtime Bulldogs coach who led the team to Sac-Joaquin Section championships in 1982 and 1987, was completed in July 2020. With California Interscholastic Federation's recent decision to postpone all sports due to the Coronavirus pandemic, the Tracy High School Bulldog football team will now begin football practice on Monday, December 7, 2020. The new synthetic turf field will also be used by the school's soccer teams.
"We are honored to have worked with Tracy High School and the Tracy Unified District on this field replacement. Tracy High School has had a long history of both academic and athletic success. We are proud to have them in our Shaw family," said Territory Manager Matthew Cohen.
ABOUT SHAW SPORTS TURF
A wholly-owned subsidiary of Berkshire Hathaway Inc., Shaw Industries is a full flooring provider to the residential and commercial markets. Shaw supplies carpet, hardwood, laminate, resilient, and tile/ stone flooring products, as well as synthetic turf. Shaw Sports Turf is one of the leading synthetic turf companies in North America and has represented quality and innovation for more than two decades with over 3,000 successful installations, including an impressive list of high-profile field installations. For more information please visit http://www.shawsportsturf.com, call 866-703-4004 or find us on Facebook, Twitter, Instagram and Linkedin.