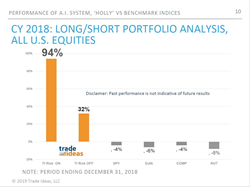 Using HOLLY, traders and portfolio managers are poised each trading day to make better decisions, which over time consistently demonstrate the ability to produce returns substantially above indexes
NEW YORK (PRWEB) February 18, 2019
Trade Ideas LLC, the global market leader in providing AI and machine learning strategies for financial instruments, announced today that it has been named as Best Machine Learning Development by Fund Technology and WSL in their annual 2019 Awards. The award recognizes Trade Ideas for innovative product development and performance over the last year.
Trade Ideas' HOLLY is an artificial intelligence tool that generates active strategies each trading day optimized and tested to capture alpha. Over the last year HOLLY's performance was 94.1% after commissions in Risk-On mode. The portfolio's gross return, before commissions and fees, measured 111%. These results compare to the S&P 500, measured by the $SPY index, which fell 4% over the same period. Risk-on performance reflects a bias towards staying in the positions beyond reward targets while strictly adhering to risk targets for each trade. Unlike risk-off mode, where reward actions do not deviate from trade plan parameters and risk management rules permit exits earlier if existing profits erode significantly, risk-on mode carries all trades the entire day until the close. This mode is often present during days of momentum which typify the majority of trading days in 2018. Note that Holly's risk-off performance for CY 2018 was 32%. Additional 2018 Risk-On performance metrics follow:

Total trades, 12 months 2018: 3,560
% Winning Trades: 46.3%
Profit Factor: 1.67
Sharpe Ratio: 5.61
Benchmark Return, SPY: -4%
David Aferiat, Managing Partner at Trade Ideas was In New York to accept the award on Thursday, February 7th. After accepting, David stated, "Trade Ideas serves the professional trading community, which is driven by the need to consistently demonstrate alpha. In 2019 our emphasis is on, "Performance COUNTS!" 2018 certainly proved Trade Ideas' ability to see the market in ways others cannot. Using HOLLY, traders and portfolio managers are poised each trading day to make better decisions, which over time consistently demonstrate the ability to produce returns substantially above indexes. This award reflects the commitment our team has to serving clients with unparalleled service and products. The recognition that we have earned reflects the confidence our clients have placed in us."
About Trade Ideas
Trade Ideas creates actionable market intelligence for institutions, advisors, and self-directed investors to make consistently informed decisions mitigating risk and capturing alpha. As a SaaS fintech innovator for over 15 years, Trade Ideas leverages algorithms derived from recursive machine learning and artificial intelligence to develop trade plans and ideas and produce statistically optimized performance results. Trade Ideas' inputs include big data sets from U.S. and Canadian market feeds, technical, fundamental, and non-structured data sets such as news and social media. Trade Ideas' client base is from around the world totaling more than 8,000 with operations in the U.S., Canada, China, and Europe.
Sign up to receive Trade Ideas' Trade of the Week every Monday with the trade details, charts, and the reason it's chosen.
Next step: Schedule a demo or find out more about Trade Ideas LLC by calling (760) 230-0713 or visiting http://pro.trade-ideas.com/.
Also be sure to vote for Trade Ideas in the upcoming Benzinga FinTech Awards, May 2018 in NYC.
For additional information, contact
David Aferiat
(619) 821-8198
david(at)trade-ideas(dot)com
@TradeIdeas