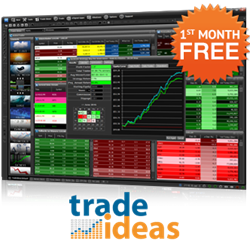 Putting Trade Ideas inside of eSignal creates the shortest distance between opportunity detection and taking action in the markets
(PRWEB) June 29, 2015
Trade Ideas announced the release of Trade Ideas Pro inside eSignal version 12.2 via the eSignal App Store. This combines the best of two technologies that are a "must have" for any active trader.
eSignal is the premier charting platform for active traders worldwide. Trade Ideas is the leader in streaming, algorithmic trade idea generation. The Trade Ideas analytics and artificial intelligence engine pinpoints the most interesting market events, while scanning through hundreds of thousands of data points in real-time. "Putting Trade Ideas inside of eSignal creates the shortest distance between opportunity detection and taking action in the markets", says Dan Mirkin, CEO of Trade Ideas.
"At Interactive Data our mission is to provide our customers with the tools that they need to be successful traders. We strive to be technological innovators and adding Trade Ideas to the eSignal App Store gives our users a unique application for evaluating the market and generating trade ideas," says Kyle Ford, President eSignal.
Trade Ideas Pro inside eSignal will help traders:

Identify new trends
Determine bearish, bullish, or neutral-based strategies
Develop trading scenarios
Back test strategies against the entire market
Discover the potential for profiting from a scenario
About eSignal:
eSignal, a division of Interactive Data Corporation, is a leading provider of real-time financial data and high-performance solutions designed for professional and individual traders. Our award-winning array of products and services has been used by tens of thousands of active traders for over 25 years. For more information, please visit http://www.eSignal.com. Follow us on Facebook.
About Trade Ideas:
Trade Ideas, a leader in cutting edge, real-time stock scanning and alerting technology since 2002, caters to investors, traders, and market professionals in over 65 countries providing next level analytics, strategy development and optimization, and decision support.
Trade Ideas' Derived Data Analytics earn praise from institutional partners as well as major online brokerages. Because Trade Ideas' cloud-based applications seamlessly integrate with any firm's existing trading, research platform, the entire solution utilizes minimal bandwidth with no client-side processing. Trade Ideas Partners benefit from a continually innovating technology partner and significantly decrease idea generation and data management costs across the enterprise.
Schedule a demo or find out more about Trade Ideas LLC by calling (760) 230-0713 or visiting http://www.trade-ideas.com.
Like Trade Ideas on Facebook for updates: http://www.facebook.com/TradeIdeasPro
Follow Trade Ideas on Twitter: http://twitter.com/TradeIdeas