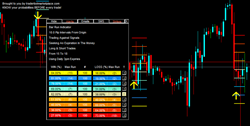 Imagine being able to to see exactly what price has done over the past 20,000 trades, for all of your major indicators, in a matter of seconds... Ryan Herron
Irvine, California (PRWEB) May 08, 2017
TraderBot Marketplace has announced the release of a powerful software application that calculates trading probabilities for the end user. Vital information, that has only been previously available to Wall Street firms, allows traders to knock years off of their learning curve, according to the creator.
Traders can now visualize the exact area where price has touched, expired, or touched and retraced, over thousands of past trades. Investors and retail traders have been scooping up the older version of the software since early 2016, when it was revealed at the Rob Booker Traders Conference in Phoenix, Arizona. In January, 2017, the company caught the eye of an upstart hedge fund.
"Imagine being able to to see exactly what price has done over the past 20,000 trades, for all of your major indicators, in a matter of seconds..." says Ryan Herron, co-creator of the software. "Back testing has never been more simple."
The 'Trader Tool Suite' was originally developed for trading binary options through Cantor Exchange. Ryan Herron states that he first thought about creating this software while meeting with Rich Jaycobs, President of Cantor Exchange, in 2016. Although TraderBot Marketplace has no affiliation with Nadex, the software has also been used for decision making for trading through their exchange, as well. Nadex is the leading CFTC regulated binary options exchange in the U.S.
According to sources, there is a function that allows the end user to see something similar to the following hypothetical example: Based upon the past 433 signals the EURUSD has a 74.27% ATM probability of closing above 1.1026 by 3pm. It has a 91.53% OTM probability of touching 1.1040 by 3pm. The maximum losses in a row has been 5 and the maximum wins in a row has been 14.
Yahoo Finance stated, "Nadex reported over 70% year-to-year growth during the fourth quarter of 2016" and this is wonderful news for TraderBot Marketplace. A Meta Trader 5 version of this software is planned for 3rd quarter 2017.