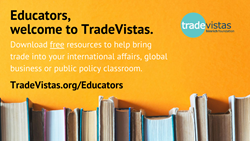 "I'm proud to share these new TradeVistas resources for students studying international affairs, global business and public policy - our future business leaders and trade negotiators." - Andrea Durkin, TradeVistas Editor-in-Chief
WASHINGTON (PRWEB) August 25, 2020
TradeVistas launched new, free resources to help educators bring real-world examples of how trade impacts our lives into the classroom.
While international trade policy is a core part of foreign policy and drives our economy, many academic programs struggle to incorporate this important topic. Teaching material – if it covers trade policy at all – is often theoretical and does not draw from real-world business and policy scenarios.
"I know firsthand how challenging it can be to develop curriculum that is relevant to today's politics and economics because I'm an educator myself," TradeVistas Editor-in-Chief Andrea Durkin said. "That's why I'm proud to share these new TradeVistas resources for students studying international affairs, global business and public policy - our future business leaders and trade negotiators."
Visit TradeVistas.org/Educators to:

Get the Starter Course Pack, featuring foundational articles covering the history of U.S. trade policy, global trade institutions, and other essential topics from tariff policies to national security aspects of trade laws.
Download the Discussion Guide, to bring current events and real-world examples of trade policy in action to in-person and online student discussions.
Watch a Sample Lecture, to learn how TradeVistas materials can fit in your classroom.
Since its founding in 2016, TradeVistas.org has published 500+ articles on the essentials of global trade and trade policy. All content is available for reprint and use. Educators are already using TradeVistas in multiple ways – as assigned reading, as the basis for in-class case studies, and for online discussion groups. TradeVistas can also be easily added to course landing pages on Learning Management Systems.
TradeVistas is proud to offer these new, complimentary resources to educators. For more information, visit TradeVistas.org/Educators or contact andrea.durkin@tradevistas.org.
About TradeVistas:
TradeVistas is a non-profit organization that seeks to offer readers a clear view on trade. Told in fact-based, straightforward, and entertaining narratives, we bring trade home and demystify the workings of global trade and trade-related policies. The project is sponsored by the Hinrich Foundation, an Asia-based philanthropic organization that works to advance mutually beneficial and sustainable global trade.